Free Gift Giving Guide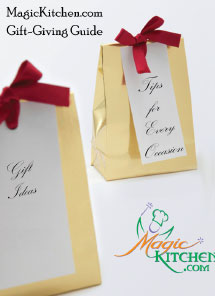 Fill out the form to get your copy now!
Download Our Free Gift Idea eBook!
Download our Gift Giving guide - it's free!
Ideas for over 18 Gift-giving Occasions!
Organize your gifts
Party tips!
A free guide created for you by the chefs and staff of MagicKitchen.com.
"I would hate to contemplate my life if you weren't there to feed me. Consistently superior quality food - what more can you ask for?" ~Joey P.