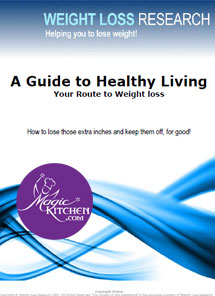 Free Healthy Living Guide
Fill out the form to get your copy now!
Download our Healthy Living guide - it's free!
Learn the best ways to eat healthy!
Links to guides about food and exercise
Best ways to stay healthy and live long!
A free guide created for you by the chefs and staff of MagicKitchen.com.
Bonnie K Says: "Received my order in the middle of a heat wave. Everything perfectly frozen. First meal was beef pot roast which was excellent. Tender beef with no fat and great veggies. Can't wait to try my next meal. This was my first order and will not be my last. I live alone and cooking is a chore for one person. You have a new, happy and loyal customer."
---
Healthy meals delivered to your home may be just what you need to give you that boost to start eating healthy.
If you're looking for homemade food delivered to your home, look no more! MagicKitchen.com Frozen Dinners are the way to go for Meal Delivery. MagicKitchen.com tries to accommodate all diets, with our Renal Diet, Diabetic Meal Plan and Diet Food Delivery.