Cooked Meals Delivered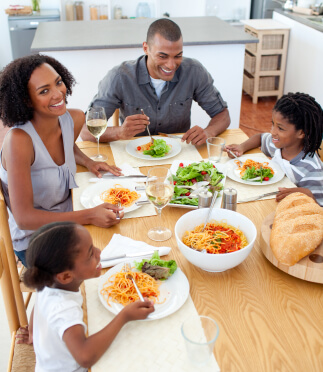 It's kind of amazing to think about how much things have changed when it comes to food and today you can even have cooked meals delivered right to your front door by companies like ours.

More and more families are severely crunched for time as both parents are often required to work long hours and the old days of cooking a full dinner are all but gone in many instances. As a result, a burgeoning new market has hit the scene that was probably first made super popular by some of the large diet companies.
In an effort to help their clients lose weight, several of these companies started offering meal program delivery that would not only save time but ensure their customers that they were making the best choices when it came to eating. This service was definitely well-received and one that is now being capitalized on by other industries.

The concept of meals delivered to your home has continued to expand and now consumers can quickly and easily have cooked meals delivered that are both nutritious and convenient to use. Basically, all you have to do when they arrive is heat them up and serve. It is a tremendous time saver for both families and individuals who do not have time to prepare routine dinners.

One of the key points that should be made about home delivered meals is that these are not a typical frozen meal that you may find in your local supermarket. They are high quality recipes that include everything from soups and desserts to full blown dinners.


If you are on a special diet and need meals that are specifically designed to meet your requirements, that can also be arranged. Maybe you need low sodium meals or foods that are perfect for diabetics. Regardless of your needs, you can have fully cooked meals delivered on a schedule of your choosing.

Imagine coming home from a long day at work and not having to take out the pots and pans from your cabinets? Meals are delivered frozen so all that is needed is to reheat in the microwave or in the oven. No dishes to clean either!

As mentioned, this is still considered to be a fairly new industry and service but it is continuing to grow in its popularity as more and more people realize how easy it is to have professionally prepared dishes delivered on a regular basis.

If you are someone who enjoys great food but does not have the time to cook the way you would like, prepared meals may be a great option. There are several providers of this service so you will need to do your own research in order to find the company that best fits your needs. Of course, we believe MagicKitchen.com Prepared Meals to be the best.

Make sure you locate a company that does not use a lot of chemicals, like high fructose corn syrup, so you can maximize your health. Also, you want to be sure these are meals created by actual chefs. If the meals don't taste good, what good is the convenient service? Seek meals created with fresh ingredients designed with your daily nutrition requirements in mind. MagicKitchen.com covers both these points.
Finally, you must also consider cost. Determine how much you are spending on grocery shopping and restaurant dining. With most meals at about the $11-$12 range, you will find delivered meals to not only be the healthier option for your body, but also for your budget as well.
Questions? Call us toll-free at 1-877-516-2442.