Let MagicKitchen.com help you in the kitchen! Fast, easy meals from MagicKitchen.com will add more time to your busy day!
Every day you need to spend hours in planning for the menu and shopping for the ingredients. Now, you can spend more quality time with your family rather than wasting hours in the kitchen chopping, cooking and cleaning dishes.
You will find special selections for Weight Loss, Senior Meals, Low Carb and Low Sodium Meals. Prepared meals from gourmet chefs are delivered right to your door. Our meals and bundles offer fast easy meals that support any healthy lifestyle.
Our special packaging goes straight from the freezer into your microwave or oven, then onto your dinner table. After eating, it simply goes straight into the trash - no pots and pans to clean! It doesn't get any easier than that (or any better tasting!). Check back often, or let us customize a meal plan for you or your elderly relatives. We update our dishes quarterly, so there are always new meals to try.
Busy families and seniors really benefit from our fast easy meals. With everyone's favorite entrees, side dishes and soups ready for you to select you can easily plan family dinners for weeks and even months ahead.
Imagine the time you will save in planning, shopping, and preparing meals with meals from MagicKitchen.com that are: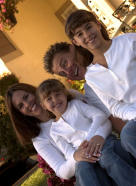 • Easy to order
• Easy to purchase
• Easily delivered
• Easy to please
Reheating instructions come on each package, and are also listed on our website for your convenience. Or request them in large print!
At MagicKitchen.com we are known for our quality products and exceptional service. For any additional information, feel free to phone us toll free, anytime, at 877-51-MAGIC (877-516-2442)