Use promotional code SN10 to get $10.00 off any order $80 and over
Delicious and nutritious meals from our kitchen to your table!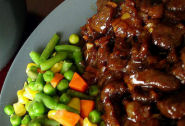 Our professional chefs prepare nutritional meals, then flash-freeze them to lock in freshness and flavor. Then we ship them to your door. Pop them in the freezer, thaw them on the day you want them, and reheat in less than ten minutes for an easy, delicious, nutritious dinner with no cleanup. Order meals individually or order ready-made packages. Let MagicKitchen.com do the work!


We enjoy making meals for the elderly. See our Product Demo Video! Click here!
---
Would you like to try meals for a week or more, or have a bundle of meals delivered to your door? Try a MagicKitchen.com Meal Plan or Meal Bundle. We understand that as people get older, our appetites diminish, and we sometimes have special dietary needs, such as a diabetes meal plan, so MagicKitchen.com offers the following light alternatives:
However, if your appetite remains hearty, and you have no special dietary needs, indulge in our Comfort Meals Bundle or try our Sweet Dreams Dessert Bundle! And for those of your who enjoy senior dating, our delicious meals would be perfect for any romantic dinner at home.
Call Toll- Free: 877-51-MAGIC (877-516-2442)
Other Options

We have a line of meals especially designed for those with medical dietary needs. The meals are Diabetic-friendly, low carb, low fat, portion controlled and low cholesterol. They are heart-healthy and ideal for diet management (gaining or losing weight). Please see our menu here:


Enjoy meals for seniors from MagicKitchen.com. Our senior meals delivered are very popular with our clients, because the size and flavor are ideal for those with older palates.