HomeStyle Specialties Bundle
The
HomeStyle Specialties Bundle
has been handpicked to include our very best A la Carte meals. On the left is our regular sized bundle, on the right is the Grande size. You have the option to buy 2 servings or 4 servings of these bundles.
Meals Delivered to your door.
Regular Size
Meals:
Smoked Pork Loin, Apple & Sage Stuffing, Cranberry Orange Sauce , 9-Grain Rolls
Sliced Beef Brisket, Magic Mashed Potatoes
Beef Stroganoff with Pasta, Pesto & Cheese Flatbread
Chicken Parmigiana, Cheese Ravioli with Marinara Sauce
Desserts:
Grande Size
Meals:
Meals in Regular Bundle,

PLUS

3 more meals
Southwest-style Lasagna, French Bread
Chicken Marsala, Scalloped Potatoes
Portabella & Shiitake Mushroom Ravioli, French Bread
Desserts:
Desserts in Regular Bundle,

PLUS

Gourmet Cookie Assortment
Avg rating:




based on 9 rating(s).
---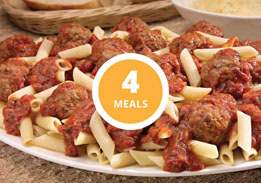 Below are Trustpilot Reviews, which are overall reviews of our service.