Senior Meals Delivered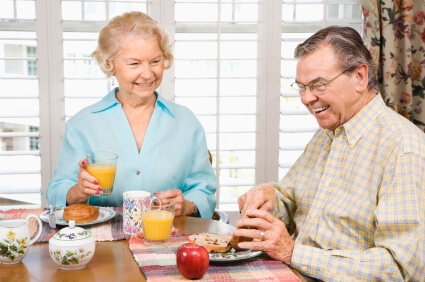 Eating a nutritious diet makes all the difference in staying mentally sharp and emotionally balanced, especially through our home delivered meals for seniors.
At MagicKitchen.com, we understand that as you get older, keeping healthy should be pivotal. The change in life might make things like preparing a wholesome meal a tiring task. We have the answer.
Our
senior meals delivered
are fresh-tasting, wholesome and delicious and offered at the greatest prices. We also understand the value of a plate of good food after a long and tiring day; prepared by the best of chefs, our
home delivered meals for seniors
are preservative free, low in sodium, sugar and saturated fats.
Our
Complete Meals Special Die
t program information:
Meals are between 300 and 500 calories
0 grams of Trans fat
Reduced sodium
Home delivered
Microwave/oven ready
Order Complete Meals for Seniors here >>
Our senior meals delivered cover a diverse range of tastes and appetite. We also create them within the stipulated USDA sodium guidelines. You can definitely count on less salt and the use of more herbs and spices to make these meals for seniors unforgettable. The flavors will transport your taste buds.
Our A la Carte menu also offers excellent meals for those not on a special diet.
Order A la Carte Meals for Seniors here >>

Many older people are under-nourished either through social isolation, personal and psychological problems or through the effects of illness or medication. MagicKitchen.com understands that the right kind of meal for them ought to have the right amount of calories, vitamins, minerals and all the necessary nutrients. With that in mind, our senior meals delivered are made with the highest level of care, using the knowledge of nutritionists and chefs.

MagicKitchen.com definitely knows how much the seniors in your life mean to you. That's why we are offering the best kind of nutritive diet, so that anytime they indulge, they will know that the food not only comes from a great kitchen but also from your family's love. MagicKitchen.com meals for seniors help to minimize potential health problems and accelerate recovery episodes from illnesses.

To top it off, our home delivered meals for seniors get to you through the most reliable delivery service. It is delivered straight to their home address and arrives microwave/oven ready. We offer the best kind of meal packages. Our main aim? To provide balanced nutrition.
Call us toll-free with questions and talk to a real person! 1-877-516-2442. Have a look at our amazing page of Senior Resources!