Testimonials-A La Carte Menu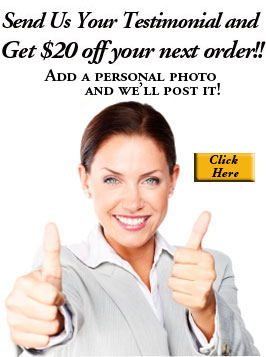 MagicKitchen.com A la Carte meal reviews and customer service reviews. Send us your testimonial! Click Here.
---
I have tried different meals and have loved every one. I can't stop telling my friends about them!
Brenda S.
---
I ordered food from MagicKitchen.com for a relative who was recuperating from knee surgery at home. She so appreciated the prepared food available to her those first few days when she had trouble getting around. She said the food arrived in good order and was all ready to heat and eat and was just delicious. Very nice gift to send to someone! Thanks so much for your products!
~Barbara E.
---
The food is easy to cook and is perfectly made for one person as ordered.
~Jeffery H.
---
I just placed a new order from MagicKitchen.com, and am eagerly awaiting its arrival. I always order a la cart because it gives me the most flexibility. I like the food, and I think it is VERY reasonably priced. I especially love the Panna Cotta dessert and, with four servings to an order, I am able to have one every so often as a VERY SPECIAL treat!
~Selina C.
---
I have been purchasing meals for a number of years. I have been very pleased with the consistent quality of the food and ingredients. Although i don't eat beef, pork or chicken, they offer plenty of main courses for me to choose from.
~Linda Gould
---
My husband loves these meals and I appreciate the fact that they are quick and easy and healthy.
~Ramona H.
---
Quality food and service. Say no more.
~D. F.
Food is well presented, looks appetizing, and tastes fantastic and flavorful!
~Rose C.
MagicKitchen.com has helped our family feel like we can be a source for comfort and support with friends, family, and business relationships during times of loss or illness. Or just when we want to show appreciation. Although we never expect a thank you, we hear the food was good and welcomed.
~Robin F.
I can't say enough about the quality and service I have received from you.
~D. Fiser
---
My daughter has been ordering for me for a few years now- enjoy your food and thank you muchly. I have no complaints.
~Priscilla
---
We live in California and Our order always goes to my elderly Mom in Ohio. She loves the Quiche, I always send that. And the beef stew was great she said. It was a new item this time as was the Mac and cheese. She is having the turkey and mashed potatoes tomorrow. My brother lives with her and He gets to enjoy it all as well. Makes a week of not cooking helpful. And I try to send items she would not normally eat. Thank you.
~Robin S.
---
The food is fresh and wholesome. It's very convenient.
~David C.
---
Everything in the meal was very good and enjoyed by all in a party of 4. Heating instructions were clear and easy to follow. Even I, as the only man in the house, had no problem putting it all together. The leftovers were also great. Honestly, though, this is a rather expensive way to feast and will probably reserve it for special occasions.
~Bob S.
---
The chicken pot pie was very good and filling. My teenage son said it was a bit too peppery for him. But easy peasy for me to make a satisfying dinner quickly after a fulls days of work on a winter evening...fabulous smell filled the entire house and all 4 of us were socializing in front of the oven waiting for dinner. We just added a salad and sweet iced tea and it was complete!
~Jerice W.
---
Thanks for the great service, the meal packs are so helpful.
~Dale F.
---
I have used MagicKitchen.com now for 18 orders and recommend any one that this is the way to go. The selection is great and service is also outstanding. Go rock chock.
~Bob F.
---
I ordered this food as a gift for an elderly friend who needs to be on a gluten free diet. She doesn't cook much anymore and welcomed having meals that she could heat up in the microwave and enjoy. She stated that all of the meals were delicious.
~Jo K.
---
I have not used such a service before, so I don't have anything to compare it with. On the other hand, I can honestly say I was completely surprised at the quality of the meals and there is no waste. Cooking for myself always made for lots of waste, not here and everything tasted good.
~Charles D.
---
My husband and I were very pleased with our entire experience with your program! The box arrived quickly and all was still frozen, as I expected. All the entrees were delicious and I will be reordering! Thank you!
~Bernadette H.
---
I have been using your service a long time now and have had nothing but good service. Thank You.
~Dale
---
I was actually surprised at the quality of my meals. I did not expect the homemade/restaurant taste. Portion sizes were great...I was unable to finish some of the meals. I think my favorite was the linguine with clam sauce. I look forward to reordering and trying some new dishes.
~Marlene M.
---
This place has been the best thing that's happened to me, food-wise. Most of the dishes are wonderful, although I have a few complaints about certain ones. I love the mac and cheese, chili, Mama's lasagna, potatoes. The beef stew has too much beef and not enough veggies. I did not like the Mexican lasagna, but I think that's just a personal choice. The mac and cheese has improved because it seems to be lighter with less cheese, I think. The chili has too many peppers, which I take out - again, a personal choice. All in all, I love the company and service!
~Sally B.
---
The meals were a Christmas gift for my 89 year old father. He reports that they are delicious and can't wait to try more. It's the perfect gift for him since we are several states apart.
~ Gale K.
---
My nephew and his wife and family sent me the complete Thanksgiving meal after I had a knee replacement. While I was invited out for the holiday, I did make the meal and found it to be very tasty. I am always skeptical of packaged stuffing/dressing and gravies and was genuinely surprised with the great flavor of both. It was a very thoughtful and delicious complete meal.
~Mary D.
---
High quality food is great for a senior like me who doesn't feel like cooking. Lots to choose from and easy to prepare.
~Linda G.
---
Dinners are easy to prepare and very tasty. Thanks!!
~Mary D.
---
Food was great. This is the perfect option when you have loved ones that are not healthy enough to cook for themselves.
~Mark B.
---
Your meals have been coming in handy for when my son needs quick, prepared meals to study for exams.
~Susan S.
---
These meals were excellent, filling and very tasty.
~Rudolph C.
---
Things have been going very well with the meals I have delivered for my brother. He likes the food and I like the service. Thank You.
~Dale F.
---
I have been ordering the frozen meals for my 86 year old father and he is enjoying them so much. He gets the meals in a timely manner after I order them, and as of yet have yet to find a meal he does not like. I am trying to keep him in his home as long as possible and these meals are one of the things that is really helpful. Thanks so much for making such good tasting and healthy meals!
~Claudia L.
---
I have been ordering food from MagicKitchen.com for the last couple of months. What a life saver! She is blind and 86 and wants to continue to live in her house. MagicKitchen.com has enabled us to allow her to live on her own in an environment where she is happy.
~Wanda S.
---
Great food, great prices!
~Dale
---
I ordered a good size collection from your a la carte menu sent to a dear friend recuperating after a fractured hip repair. Everything arrived in good shape and I recently received the review I requested. I am so pleased to tell you it was exceptional. It was my first experience with MagicKitchen.com, and I was anxious to hear a report. Thank you for a job well done.
~Teresa S.
---
I have been using MagicKitchen.com for about the past 6 months and I must say they have not disappointed us yet. I mean it is so amazing that they can squeeze out so much quality in each dish at such a high level and make them taste so good. Really! Even the low sodium options taste like you're cheating. Please keep up the good work!
Dion T.
---
We had the following meals and all were good!
Chicken Marsala--chicken was very tender and plentiful, sauce was tasty
Chicken Fettucine Alfredo--chicken was very also very tender and plentiful. A little light on the Alfredo sauce, which is probably a good thing for me and my dairy issues.
Mama's beef lasagna--my favorite, lots of beef and good sauce.
Based on our experience so far I think you can send to people with confidence they will enjoy the meals.
~J. Brennan
---
The crab cakes are the best i have ever eaten. The carrot cake is fantastic. The zucchini- carrot muffins are the best.
~Donna R.
---
We had four meals sent to an employee and his wife who just had a baby. Here was his response: We already had a meal, the egg plant! It was great we really enjoyed it. The packaging is great it's a simple deal and makes the evening so much easier. Quality and presentation is remarkable. Thank you so much!
~Randy N.
---
I was so lucky to find MagicKitchen.com, with a paralyzed stomach eating is often difficult and mostly non-existent on some days. I was down to 80 pounds and could feel life slipping away, I was weak and tired all the time and thanks to MagicKitchen.com and their wonderful soups and few other foods that I found I could eat without pain I am up to a whopping 104 lbs. My Dr. is thrilled since he has been trying to help get my weight up for a number of years. I highly recommend the beef barley, beef, stew, chicken noodle, baked potatoes, rice dishes (all), and the scalloped potatoes. Even some of the vegetables that I was to avoid or cooked in such a way for the most part I can eat many of them. I am just grateful to be in better shape now than before I began ordering from MagicKitchen.com. The food is good, taste great, no additives and you can add your own salt if you want to. Thank you MagicKitchen.com!
~Debra L.
---
Meals are tasty and convenient.
~David L.
---
Still holding to the quality and service we expect. Thank You. ~Dale F.
---
My mother is 86 and no longer has the interest in cooking meals for herself. Her husband of over 60 years died in 2015. She used to cook 2- 3 meals a day for him. When I discovered MagicKitchen.com a couple of months ago, I knew I had found a solution to her getting better nutrition. She enjoys the meals, especially the desserts!
~Pam C.
---
My son thinks these are just super star meals. I send them to him and he thinks they are just the biggest treat. Great delivery and easy to heat.
~Beverly E.
---
This is my third month ordering from MagicKitchen.com. The food arrives ready to cook or defrost, for oven or microwave. I have tried entrees, ala carte and even the desserts. Even vegetables and sides are delicious. I can't emphasize enough how tasty these dishes are. They may have me for life. For one or two people, it's ideal. I'm a vegetarian and I have no problem finding delicious and freshly cooked meals. 5 stars!
~Lynda H.
---
Ordered these for my mom....she loved them...the soup was amazing!!!!! Real comfort food!!!
~Gloria M.
---
I love the food, and it's been great for me because I was used to buying the frozen meals in the grocery store. MagicKitchen.com food is MUCH better, although it's more expensive, it's worth it. Also, it helped when my spouse was laid up after surgery so we didn't have to cook with everything else we had to do.
~Susan B-Q.
---
The quality of the meals combined with the delivery service continue to be superb!
~Steven C.
---
The food has been really good, better than any other sites offering food. Love the cupcakes.
~Mike D
---
The food is very good and well proportioned. Delivery was on time and easy to track.
~Dale F.
---
The meals were delivered quickly and were delicious!
~Susan G.
---
We sent this to a co-worker and her family after having surgery. They said it was delicious and easy to prepare.
~Kathie
---
Still loving the food!
~Kari H.
---
The food continues to be of excellent (and consistent) quality and the same goes for the ordering process and the delivery service!
~Steven G. C.
---
The soups are so wonderful it is like returning home and having my mother make them from scratch. They are not only delicious to eat but the smell while heating up makes your mouth water. The breads are great with the soups and we love the pesto and cheese pizza, just the right sizes and amounts, and if one isn't enough have the soup and pizza together. The dinners are good, and prepared wonderfully. I love the desserts, and the pastas. Due to health issues I have to be careful about what and how much I eat but these fit the bill perfectly and I would highly recommend MagicKitchen.com to anyone, I already tell all my sisters and brothers about them. Now that we are getting older it isn't always easy to cook for just two people or for one's self, but this is made easy for us. No need to shop for dozens of ingredients, carry them in, put them away, get them out, make a big mess cooking and the clean up is a breeze now. Need I say more, I highly recommend all of their foods, they cook for people with all kinds of health issues and BONUS, no preservatives or unnecessary fillings, just real food that taste good!!
~Debra L.
---
See More MagicKitchen.com reviews here.
---
The beef au jus was really good. And the carrot cake was fantastic.
~ Janet B.
---
We purchased foods from this website due to the variety and also the value. The foods are for an employee and his wife that needed to have the immediate need for good food that was fresh, but also all needed was to heat them. That's a great service to someone that is having health needs and also for their spouse who is doing the caretaking and to take some pressure off of them. Great service and they are enjoying it. More to be purchased again today.
~Deanne S.
---
I've ordered 3 times from MagicKitchen.com and have NOT been disappointed. Great food, lots of choices, delivered as promised. I like the option for complete meal or just an entree. Suits us for whatever the occasion. I'll be ordering again & again.
~Debbie
---
So far 80% of the food has been pretty good, some have been Very good and only 1 or 2 dishes we didn't like at all, very convenient, NO mess very little dishes and for frozen food I can't complain
~Kari H.
---
I send your food as gifts and I have never had a complaint, only raves!!!!! I am very satisfied with what I have ordered.
~Jane M.
---
I just finished my first meal from MagicKitchen.com and it was delicious. I'm looking forward to the others I have on hand. I am 90 years old and in frail health so having these meals on hand is certainly a blessing.
~Joyce W.
---
You guys are great. And you were so accommodating on the phone. Its refreshing to actually deal with nice people.
~Lisa T.
---
I would like to share with you the exceptional food that was delivered to my ailing parent after she had her surgery. The soups and quiche were very highly rated by a woman who normally does not eat frozen foods. She said it was very tasty and the homemade taste made her enjoy her meal. I am grateful that there is an excellent food service that can be delivered to your elderly parents, specially when one lives far away and is not able to cook for them. Thank you for assisting with the healing process of my mother. A very grateful customer.
~Tarcila S.
---
I order the food for my brother and he enjoys your meals. The delivery system is excellent.
~Dale
---
During the winter months, my aging mother rarely drives anywhere or leaves the house. Since I live a few hours away, I'm always very concerned about her having food in the house that will provide the necessary nutrients but more importantly, food that actually tastes good. She eats to live not lives to eat. Anyway, she was very excited about the food being delivered directly to her door and absolutely loved the convenience and mystery of what was being shipped. Since I was at her house over the weekend, I thought I'd try the stuffed baked potato -popped it in the microwave for a few minutes and voilá - it was absolutely amazing (and smelled great too)! Can't believe you hit a homerun on a microwavable baked potato. Hats off to the chef! Now, I'm buying food for the entire family. Kudos MagicKitchen.com!
~Angela
---
So easy, so delicious. Delivered on time. As a senior I am tired of cooking for 1 you have made my life easier and healthier, thank you!
~Virginia L.
---
MagicKitchen.com is a great alternative for a quick and painless meal when I don't feel like cooking for myself. The lesser calorie meals also make for a great substitute for junk food snacking!
~Christopher M.
---
These are perfect for my grandmother! We take care of her on a 24 hour basis but, with our work schedules it is sometimes difficult to make the health dinner meal she expects, especially at the time she wants dinner. She loves these meals and I have never hear a complaint!
~Karyn S.
---
Home Meal Delivery Reviews
has more reviews of MagicKitchen.com!
---
I order these foods for my father. He is so happy with them and thankful. I am very grateful there is such a company as yours. My father is 81 and healthy but would rather not eat or just grab something unhealthy, than cooking a healthy meal. Thank you for what you all do at MagicKitchen.com!!
~Addie B.
---
Excellent quality, quick delivery, excellent customer service!
~Christie R.
---
Meals are ready to reheat, and taste great! It's nice to be able to have a quick meal that's nutritious.
~Christopher M.
---
I order this food for my brother and he loved the meals and the ways they were prepared.
~Bethel S.
---
We send MagicKitchen.com meals to staff members that have had surgery or are celebrating a newborn baby. They really appreciate the simplicity and quality of the meals they receive.
~Kathi
---
We have been using the meal services of "MagicKitchen.com" for the past several months and their high quality has been consistent in all respects. The online ordering system (or phone ordering) is quick and accurate, their delivery process is consistently on time and their meals are superb! Great quality and taste, with portions that are adequate and well presented. Excellent!
~Steven G. C.
---
I love the meals from MagicKitchen.com! I'm 87 years old and my sister found this company online to help me get my daily meals. It's convenient and the food is wonderful! Thank you MagicKitchen.com!
~Savino C.
---
I enjoy eating your meals and doing business with you.
~Joan D.
---
There used to be a restaurant in my Dad's town that made wonderful beef stew served in a cast iron pot. That was his favorite place to eat. Unfortunately they closed and I have been searching for something he might like as well for those cold winter meals. Oh my goodness, I'm not sure which of us is happier; me because I found something healthy I can get for him, or Dad because he absolutely loves this stew. He's no longer much of an eater, but the serving for two is his serving for one when it comes to this stew. Thanks so much for making something I can order for him that's healthy and that he'll eat, and eat, and eat.
~Maria A.
---
I ordered the Meals for One bundle for my older parents who live across country. Neither one of them care to cook, but both were very happy to receive the meals. My mother said that the pot pies were especially delicious and the desserts disappeared rather quickly. I will definitely order for them again. Since I can't be there to cook for them, I feel better knowing that they are able to get balanced meals. Great service!
~Jennifer
---
The options included just what I wanted, ordering was a a snap, it arrived just on time, and my parents LOVED IT!!!
~Cathy M.
---
The Thanksgiving Dinner meals were very good and were delivered on time. I recently placed another order with MagicKitchen.com. The meals are somewhat expensive, however, the service and quality of food are above average. I do recommend MagicKitchen.com.
~Larry P.
---
Thanks to MagicKitchen.com my youngest son had a wonderful Thanksgiving meal and Mom felt good even though her youngest was so far from home. I would definitely recommend MagicKitchen.com for anyone who has a loved one far away. All of the meals were excellent. ~Debbi T.
---
My Mom still enjoys cooking these meals when weather is bad and she can't get out. Also easy to heat up and ready in no time-she is 88 :)
~Maureen A.
---
I purchased these meals for my sister who has been ill for quite some time. She said, "I loved going to the freezer and just picking a delightful meal all for myself. Thank you so much."
~Diana P.
---
We just had our Thanksgiving Day dinner prepared by MagicKitchen.com, and I can seriously say it was as good as any homemade dinner I have ever had. Everything was perfect! Thank You!
S. Crane
---
Amazing turnaround! What a great company!
~Jennifer R.
---
My sister and her husband have been thrilled with the gift of prepared food. They are undergoing some rough times, and not having to worry about what to buy and prepare for dinner has been enormously helpful to them.
~Karen M.
---
I ordered the food as a gift for new parents. I ordered a very large variety. I phoned in my order, since it was my first time ordering and I had some questions. The service person who took my call was excellent. Knowledgable and quick. She was a great help in the selection of food items and delivery dates. I wanted the food to arrive sporadically, rather than all at once. It was a great ordering experience. The recipient did say all the food was delivered on the correct dates. They loved everything. The gift was very much appreciated. I ordered for 2 people. With some items, they actually had leftovers they could eat the next day. And it could not be easier to prepare them. You just have to know how to push a button. Don't be scared off by the postage fee. Remember you are dealing with a very perishable product. A lot goes into their packing to insure the best quality of product upon arrival. You would not want it any other way. 5 stars!
~Laurel F.
---
The delivery service is always prompt and one time, and the food --has been so far-- always been very tasty!
~Steve C.
---
As a new Mom, sleep takes a premium over cooking, yet we still want to eat healthy--and need to eat healthy for baby when breastfeeding. Our order from MagicKitchen.com let us focus on our new baby and take care of our new family. I would recommend this service to any new parent. It is very convenient.
~Karen, Happy New Mom!
---
My sister Katie loves your dinners. Thanks for all that you do.
~Julie C.
---
This is my second order...same delicious meals and prompt service...I am ready to order a third. Thank you.
~P. Johnson
---
I must admit I was apprehensive. However, the quality and taste of our vegetarian meals was very good. We are ordering again. What a convenience.
~Diane J.
While some dishes need improvement, I was quite pleased with my first order. I've order from online food services in the past and your food is much better, and your customer service has proven to be outstanding. I had a few items missing from my first order and I sent an email. I received an answer within minutes and the missing items came two days later. I'm looking forward to getting my order tomorrow.
~Magda A.
---
Wonderful fresh food.
~Amy K.
---
Great food!! easy to cook and shipping made easy and I like the easy microwave food with great taste!
~Betty S.
---
I had two breast cancer surgeries and was in the middle of radiation treatments. My daughter ordered a bundle of meals which were delicious and I ordered more. My cousin has kidney cancer and I am ordering meals for her too. I will continue ordering because the food is very good, a great variety and so easy to use. Thank you.
~Louise K.
---
Good food, polite and fast service.
~Grace C.
---
I am enjoying these meals very much. I get a delicious variety automatically delivered monthly . I wanted to comment on the delivery during this bad winter we are having. I have had over 10 inches of snow in 1 day here in NJ, sometimes 2 or 3 times a week and these meals have arrived on time every time. Never any delays at all. Thank you MagicKitchen.com for your wonderful meals and such great service.
~Lorraine R.
---
Thanks for your condolence and all of your years of outstanding customer service. MagicKitchen.com worked magic on my father. He ate things he thought he didn't like. You accommodated his every need. You were truly a blessing for me to get him to eat healthy. Thanks Greg and the MagicKitchen.com staff.
~Melva A.M. Tyler
---
On this last order I decided to treat myself and move away from special diets for once. The meals I ordered were extremely well prepared and tasted excellent. The delivery service is rapid and the meals are very well packaged.
~Barry G.
---
We ordered these meals for a work colleague who had surgery. He and his wife said the meals were wonderful, and having them delivered was so helpful.
~Brenda F.
---
I gave this as a gift and asked for an honest answer as to how the food was since I had never heard of you or used you before. I just found you on the internet. This was the response I got from the recipient:
Everything was really good, honestly. It all tasted homemade, the ingredients were normal, not too heavily seasoned, but flavorful. I think they provide a nice service, oh, and it all tasted fresh too.
~Janet K.
---
I am a new customer, and I am so incredibly thrilled. My grandfather is old and difficult especially when it comes to eating. He basically complains about everything. Last week he ate your beef stew with pleasure, and it really increased his appetite.

More people should know about your wonderful company.
~Christina D.
---
I order these meals for my son, who is disabled and living on his own. He loves everything, and that says a lot, because he is a picky eater. He also loves the convenience of having meals sent to his home twice a month, so he doesn't have to do a lot of grocery shopping. I love that he is getting nutritious meals. Please keep up the good work and adding new dishes.
~Karen G.
---
My grandfather has suffered several strokes, and is not very well in general. His weight has dropped dramatically in the last few years, and he is very difficult to feed. We have tried several options, home meals delivered to the elderly, different food delivery services, and even restaurants. He doesn't like anything.
It really is a MagicKitchen.com. He said everything was "very very good" and he would happily have the same order again.
Seriously amazing. Thank you so much!
~Christina D.
---
Tired of the same old, same old? Try the food once & you will give up the drive thru's!
~Christine B.
---
We placed an order for 8 meals for a sick co-worker and she loved the convenience and selection of the meals. Having ready prepared meals delivered to her house was a great idea.
~Maryam F.
---
I have enjoyed MagicKitchen.com meals for some time… they are well prepared and easily prepared and when you need to call in for help,they take time and help you as long as you need them to.
~Sonja E.G.
---
Grandma said the family pot pie was delicious and she would be able to eat it all week!
~Gail E.
---
MagicKitchen.com entrees are a good fit for my wife and I. We normally pair them with steamer bags of veggies and the variety keeps us happy, while saving money over eating out.
~Andrew J.
---
I ordered these meals for my brother because he doesn't cook. He really enjoyed them!! I will definitely be ordering them again!
~Kathy G.

---
My mother told me about MagicKitchen.com and I found it to be a fantastic service! Everyone really enjoyed it and it is a thoughtful way to help out a friend or family in need, the gift of dinner! I will be ordering again and recommend it to all.
~Keri
---
I am pleased with your offerings, and the manner in which delivery is made. I was very impressed, and enjoyed the chicken parmigiana. Had never had this before, anywhere. Well prepared. Delicious. Soup was very interesting in that this was a new experience for me, this type of soup. Very good, and enjoyable. Mostly prefer a good, solid, vegetable soup. Haven't the pot roast yet, but I anticipate pleasurable approval if anything like the flat iron beef that was an absolute winner. I expect a long relationship with your company.
~ David J.
---
We got the Senior Meal Bundle for my in-laws for Christmas and my mother-in-law was overjoyed! She said the meals are easy to prepare and taste great! This is something we plan to do for them monthly to alleviate some of the stress that meal preparation causes.
~Cathy W.
---
Your products continue to be a great selection and variety for my husband when I am gone. He hates cooking and this is the best replacement!
~Ruth S.
---
I sent the meals to my Mother. She just loves the variety, the taste and the convenience of having them delivered to her door.
~Carolyn W.
---
I have ordered meal bundles from MagicKitchen.com regularly for the past two years. I find the value, nutrition and service to be excellent. I have been sending them to my son to make sure he has food that he appreciates and enjoys.
~Roger I.
---
The meals are all well proportioned, nutritious and quite tasty. I have used other programs - MagicKitchen.com is superior in my experience.
~ Connie K.
---
I researched for two weeks on healthy, natural meal delivery programs for my brother and his family. I was apprehensive at first because I wanted it to be great. I have only received positive and solid reviews on quality and quantity of the food bundle I sent. It means a lot to me since I live out-of-state. Thank you for making every detail of the process so easy as it's given me peace of mind. Through your company's mission and team, I'm so very grateful for all of the support and nourishing food that has helped my family tremendously. God bless you all!
~Mona Y.
---
Besides the taste and quality of the food, it is the great service from MagicKitchen.com. The friendly staff are eager to please customers with excellent and prompt service.
~Roger I.
---
Magickitchen.com helps me a great deal to show our love and respect to my husband's father who became alone a year ago after taking care of his wife who was our mother for a long time. He likes the meals that we have been ordered for him so what more can we ask! Thank you Magickitchen.com!
~Yong Hui O
---
I was pleasantly surprised by the taste of the food. The delivery service was wonderful also. Magickitchen.com is a great find. I can't believe I haven't tried it sooner. Thanks again for easy and delicious meals. I can't wait to order again!
~Rick H.
---
I have ordered prepared meals before and they were not that good. I am now ordering from MagicKitchen.com because me and my family think their food tastes the best. And the turkey dinner was excellent.! I will continue to order from MagicKitchen.com.
~E.Lee
---
I ordered complete meals for one and my order was filled promptly. Each item in my order was delicious, nutritious and top value. MagicKitchen.com lets me focus on my work while enjoying healthy meals each day. Thank you, MagicKitchen.com!
~Runjeev I.
---
This is a godsend for me. I think it is especially great for the elderly like myself. I order for my friends to help them get better whey they aren't feeling well, I order for myself when I don't feel well, & I am ordering for Christmas as my daughter will be here a week, so cooking would be a waste of time that we can spend together, although she will make salads for us. The food is always great, it ships quickly, has broad variety, so glad that I heard about it & tried it for friends myself, thanks for being there for me MagicKitchen.com! I NEED you, you make my life better. As I get 'lazier' I intend to have you feed me, just send my food, I have better things to do!
~Patricia A.
---
My husband and I have tried three meals, and all were very tasty. I will be ordering more. I have ordered from other meal preparation companies, and was disappointed.
~Loretta B.
---
The meal was very tasty, and my guests asked about the provider. I told them it was from MagicKitchen.com, and they plan to order your food products.
~Dora N.
---
The meals selection is wonderful and very suitable for senior eating. Your timing for delivery exceeds most companies I have worked with and your courtesy in answering questions is sincerely caring. Really appreciate you.
~Ruth S.
---
Received these meals in 2008 from my daughter who researched ready made food. I had a broken hip and they were so helpful and delicious. So we started sending them to my mother in law who is 90. They are a life saver and taste delicious! Highly recommend MagicKitchen.com.
~Donna D.
---
I cannot wait to place my next order in the next couple of months! Your meals saved me so much time and planning being a very busy high school teacher. Thank you!
~Jesse A.

---
Mom turns 87 this weekend, I asked her what she wanted for her birthday and she said I want some breakfast & dinners from MagicKitchen.com. So what mom wants, mom gets. The meals are delicious and that makes me happy but most of all it makes mom very happy. Thank you for making quality and tasty meals.
~Mark P.
---
I have tried local food delivery companies and was disappointed. I try to eaten gluten free and also do not care for beef or pork. I like the wide selection of gluten free dishes MagicKitchen.com has and the fact that they cater to special diets. Also, love the many vegetarian and chicken/fish dishes. With the other company I tried, when I told them I did not eat beef or pork, they delivered chicken every night which got very boring. I especially like MagicKitchen.com's desserts, especially the cheesecake and tiramisu. MagicKitchen.com is the best on-line food delivery company I have found and I will continue to use them. Love the food. Just recently I had surgery which required a long recovery - who feels like cooking after a total knee replacement. I ordered some food prior to the knee surgery and after and it has come in so handy when my son can just pop my meal in the over. Thank you for the yummy food you make!
~Nicolette F.
---
My senior parents live in a retirement community in Florida. Unfortunately, the food quality and quantity has deteriorated since moving there 5 years ago. After listening to my parents complain about "tough/tasteless meat" one too many times, I finally decided I had to do something! MagicKitchen.com has been the absolutely perfect solution. They now receive 4-5 helpings of wonderful, tender, flavorful meat entrees each month from MagicKitchen.com. Not to mention they are in love with the crab cakes and brussel sprouts. Thank you so much, MagicKitchen.com
~Connie B.
---
I just have to comment on your customer service. As you may recall I ordered 4 dinners to be used as primary meals for a boat delivery from Maine to Maryland. The boat was leaving the dock on Friday, October 4th at 8:30 to catch the tide and we couldn't wait. Unfortunately, there was a problem with the order and it was schedule to arrive on Friday and not Thursday as I requested. Your response was fast and professional. You accepted responsibility and sent an entire new shipment at your expense to arrive on Thursday with the only request being that the shipment that was going to arrive on Friday be given a good home.

So we knew when we left the dock that your customer service was excellent and we quickly found out your food was even better. We were all very impressed with the flavor and portion sizes and the ease of preparation. Thanks so much for having a great product!

By the way, the shipment that arrived Friday is going to be used for another delivery of a boat from Maine to the Caribbean in December. Cheers,
~Barry D.
---
I sent some meals to family members, and they just raved about how good the food was (especially the Tiramisu dessert). The food was promptly delivered to them in Tennessee, and tasted so fresh!
~Susan W.
---
This was the first time we had tried MagicKitchen.com and loved the food that we ordered. It was great that the food was already cooked, all I had to do was microwave it! Since I am currently going through cancer treatments, we will be ordering more meals since they are great tasting, nutritious and an easy and quick meal to prepare.
~Judy P.
---
The meal bundles from MagicKitchen.com make my life easier and more pleasant. The food is tasty, nutritious and satisfying; the service is second to none. A single person has one thing less to do because MagicKitchen.com does it so well.
~Runjeev I.
---
Nothing Short Of Fabulous. Friends I have referred have already placed orders.
~Lucianne K.
---
I had surgery this summer and my boss had a package sent to my home from you guys. I was so surprised! Everything was so delicious and easy. I couldn't believe the variety. We had everything from beef stew to chicken marsala with cupcakes for dessert! I'm on your website now ordering more. Thanks for making my recovery a little easier!
~Amy S.
---
Some (meatloaf, lamb shank) are surefire, gotta have more, out of this world winners! Even the ones that don't hit that mark are so tasty and well conceived that you would be hard pressed to believe that they're frozen meals. Excellent company! We love the special needs options and actually started using this company because of a diet issue for our family member. SO good to know we can get these when we need to.
~Linda B.
---
The selection & portion sizes are perfect. If you are always on the go, this is your answer, forget take out.
~Christine B
---
I, ordered these for my son that lives alone and works long hours. He says the meals are perfect and ingredients seem fresh. Loves the convenience. Will definitely consider ordering again!
~Deborah H.
---
I tried Meals on Wheels for my parents but they cancelled the deliveries after a few weeks. They loved my homecooked meals but I can't keep up the energy needed to pull that off. MagicKitchen.com rescued me with Senior Meals. The meal selection is huge and satisfying to both of them. Seafood meals are their favorites. Try the crustless quiche, macaroni and cheese, shrimp enchiladas. Now I bake cookies for my folks and enjoy spending time with them . Thanks for doing your magic.
~Noel
---
I also get Home Delivered Meals at about the same cost as your gourmet meals. I plan to utilize your meals in the future. There is just no comparison. I have yet to eat a meal that isn't luscious! Keep up the good work, and let "Seniors" know about your excellent meals!
~Edward W.
---
I started ordering the food for my elderly mother who can no longer prepare her own meals. She was very skeptical about getting them, thinking they would have no taste like other meals she had delivered to her door. Well she simply loves the taste of the meals and is very excited about trying the different types of entrees. Shipment of the meals to her is easy and fast. Thanks for a great product!
~Rose M
---
As always the food is tasty and satisfying. We haven't been disappointed yet!
~Mary M.
---
The braised beef was better than what I've ordered in actual restaurants! It melted in my mouth and was perfect on top of garlic potatoes! Watch out MagicKitchen.com- I'm ordering more!!!
~LaJuana O.
---
Tired of take out? Then you found the right website! The food taste great, comes packaged individually, is reasonably priced, has a wide variety for everyone's liking, and is much, much healthier than take out. One try & you are hooked.
~Christine B.
---
The meal bundles were delicious, nourishing and satisfying. After a day at the office, they lighten my workload. As a single person, I value the convenience, cost and service from MagicKitchen.com.
~Runjeev I.
---
I am very pleased and satisfied with MagicKitchen.com. The meals are delicious, Customer Service is outstanding, and delivery is great! Thank you, MagicKitchen.com, for making dinner time so much easier.
~Kimberly P.
---
This is superlative compared to any store bought prepared meals. I love the variety and the ability to customize to fit my personal lifestyle! The delivery is superfast. You must try the crab cakes!
~LaDonna L.
---
Thank you, and we appreciate your service. I have a dear friend who had a miscarriage a few weeks ago and we put money together to send her meals from your establishment. She was very thankful and said the meals are very yummy and even her picky toddler is eating them. This order below is for my father in law, my mother in law
is in surgery right now and it's going to be a long tough road to recovery for him and since we can't be there we wanted to ease his burden and make sure he had easy healthy choices in the house when he goes between there and the hospital which is an hour away. Thank you again,
~ Jerel E.
---
I sent this to my parents as a gift and they were so happy with the meals. They are easy to prepare and full of flavor. We are now on a regular delivery for them.
~Trisha B.
---
I am preparing to order for the 2nd time because my first experience was so positive. The food is exceptional and so convenient when cooking is not a option. LOVE MAGICKITCHEN.COM ! !
~Lisa L.
---
My husband and I love your meal items. We've been ordering from MagicKitchen.com for close to a year now. We CAN cook, but really enjoy having that done for us and delivered to our door, freeing us up to do other things with our time several days a week! I am so glad to have found you, MagicKitchen.com!
~Lucy W.
---
I served 2 of your family size Chicken pot pies to about 20 family members at the beach. They all raved about how good it was!
~Mary M.
---
I was extremely pleased with the quality of the food. The variety that is offered far exceeds any other online food service. Once you try MagicKitchen.com, you will be hooked.
~Christine B.
---
Outstanding customer service, mouth-watering/healthy meals at great prices and excellent delivery. What more can I say, except I'll be ordering monthly! Thank you, MagicKitchen.com!
~Kimberly P.
---
Had the braised beef with the mashed sweet potatoes tonight and it was a fantastic meal. I have been impressed with the quality of the food, the way it is shipped, and--when there was a problem with shipping one of the orders they fixed it immediately. In fact, so fast I had to ask them to postpone the shipment because I was going to be out of town. NO PROBLEMS. It is a pleasure to deal with the people at MagicKitchen.com and to eat their food!
~Martha H.
---
The quality & selection cannot be beat. If you are looking for home style food - you found it!
Christian B.
---
I recently purchased my first order & thoroughly enjoyed 90% of the order. There was one entree I did not enjoy, and the company offered me a refund or replacement. I chose the replacement & it was extremely tasty! MagicKitchen.com is a very customer focused organization & their meals are delicious with excellent quality. I received my second order & it was timely & delicious- I recommended it to two friends. Very unusual in these times to have a pleasant experience with a company, where there is genuine concern for the customer!
~Tony L.
---
I was looking for quick and easy meals that were healthy and tasty - boy did I find them!
What I've found is that most of the entrees and side dishes for one actually make 2 meals for me. Which makes ordering them very economical.
I ordered the Meals for One #2 which gives 8 entrees - this gives me 16 meals - that's only $7.50/meal! For healthy easy to make meals! I'll definitely be ordering more!
~Ramona D.
---
I am surprised at the quality, ease of preparation, and variety of meals. I am glad that I discovered you because my wife treated me like a God - every night she gave me a burnt offering!
~Theodore L.
---
I was super impressed by all aspects of the Magic Kitchen experience. Ordering was easy, delivery was right on time and the food was outstanding!
~Heather B.
---
A year ago, I sat at my mother and father's home one evening wondering how I was going to help my parents deal with my father's recovery following emergency surgery. It seemed like there were so many things that needed to be sorted out —not the least of which was how they were going to eat. My father would not be able to make the trip upstairs to the kitchen for sometime and my mother didn't want to leave my father alone for extended periods. We needed prepared meals delivered.

This is when I found MagicKitchen.com. I must say, I found not only the prepared meals I was looking for but also wonderful customer service! Back then, after long days at the hospital, I was at my wit's end; I needed patience and understanding as I attempted to sort out options; I got that at MagicKitchen.com. After I returned to my own home I needed additional help to problem-solve ordering; I got that from MagicKitchen.com. Today long after my father's full recovery my parents continue to enjoy this service.

Now, as I act as go-between, interpreter and menu guide I need a hand with suggestions and a friend to laugh with; I get that from MagicKitchen.com. I can not say enough about the relief I feel knowing my parents have good food in the freezer, are eating right and have the ease of home delivery. This is my testimonial: MagicKitchen.com is a blessing and so are the people there who continually seem to respond to my needs and make me smile.
~Elaine D.
---
I just got my second shipment and these meals are great! MagicKitchen.com is my answer to how to eat healthy!
~Craig L.
---
MagicKitchen.com meals are truly excellent. The food is tasty, the price is reasonable, and the preparation is simple! If you want to try different meals at home without having to learn to cook, give MagicKitchen.com a try!
~ Charles C.
---
"My mom lives 1900 miles away all by herself. I can't tell you how many evenings I'd talk to her and hear that she had cheese and crackers for dinner because she did not feel like cooking. First I tempted her with the lamb shanks when she was visiting at Christmas. She pronounced them the best she has ever had. Then I sent a big care package of meat and poultry dishes to her house. She loved them. Now she is ordering for herself. I love hearing how great her meals are and knowing that she is getting enough protein. Not only is she eating well, she has my sister and now my brother hooked too! Mom will be getting regular care packages now from all of her kids...we'll send the meat...she buys the desserts! "
~Patricia Z.
---
Bought some of these meals as a Christmas gift to my Mom, and she loves them! She is very pleased. She prefers low sodium meals, so everything I got her was low sodium. She said all the food was still very flavorful. And I was very impressed with the speed of delivery. Placed the order on 12/24, and she had her meals on 12/28. I will definitely order from MagicKitchen.com again, for both my Mom and me!
~Rhonda W
---
Delicious restaurant-quality food. Love it!
~B.Sweet
---
My Dad, until recently, at the age of 96 has been able to do the grocery shopping and preparation of his evening meals. However, in then past few months, he was in need of nutritional, tasteful and convenient meals. I discovered your company online and also as a recommendation from a friend who was purchasing the meals for her mother. This has been a miracle of sorts for our family. My dad tells everyone in his building how delicious his meals are and he has even shared a slice of his carrot cake with a friend. He looks forward to his dinner time and because of your company, I have the peace of mind knowing that my Dad is able to eat well and continue to be independent. The communications, delivery and billing process are all very reliable. We have been very satisfied and we are looking forward to my Dad continuing to order and enjoy the many varieties you have available.
~Barbara I.
---
What a joy to have my mom eating, and enjoying! food again. I live far away, and it's such a comfort to know she is getting delicious, nutritious food!
~ Doris L.
---
Wow! It's so hard for a mom to think that one of her kids will be away from home for the holidays. Then not only is your child not going to be home, but he won't have time to prepare a good Thanksgiving meal. I was so happy to find a place that made it so easy to send food and great food at that. My son couldn't stop thanking me. You made it easy and delivered on time. Thanks so much!
~Lisa Y
---
I am watching my blood sugar & was looking for some low carb dishes that were tasty & easy to fix when I get home. I tried the Chicken Marsala, Magic Meat Loaf & the Broccoli, Mushroom & Zucchini soup. I loved all 3 and just by adding some vegetables & salad I had a complete meal. Will definitely place more orders.
~David A.
---
The meals we are purchasing are a tremendous help for our family during a very stressful time. My nephew's new son has many health issues. I cannot be with them all the time due to logistics so we are sending "comfort" and nutrition with your skillfully prepared meals. All the meals have been delicious and greatly appreciated.
~Laura A.
---
Having a toddler doesn't often allow me to cook gourmet dishes but with the MagicKitchen.com dishes, we can still enjoy gourmet food delivered to our door - and fast too. I will definitely continue to order from them.
~Ann K.
---
The service and food are both outstanding! I send a food care package to my dad across the country, and he loves it! Now, I'm his favorite daughter, for sure!
~Lesle L.
---
MagicKitchen.com is the best provider of ready to eat meals. I have been a loyal customer since I started several months ago. Besides the quality and taste of the food, their prices are reasonable.
~Roger I.
---
I ran into a problem placing my order online. After making contact with the staff, they went out of their way to accommodate me, sending me numerous emails with a fix, and even calling me to resolve the issue. With such great customer service, I was even more pleased with the food! Easy to heat up, even easier to eat!
~Elizabeth F
---
Fantastic! The meals are amazing and my father-in-law enjoys the variety. I can't tell you how wonderful we feel knowing that he has a nutritious, delicious meal every night.
~Pam M.
---
I would strongly recommend the food from MagicKitchen.com if you have family out of state! I can't help my Pop in CA very much, but I feel like I am there for him when I send meals from MagicKitchen.com. The magic mashed potatoes are so good! He loves the meatloaf. He can even "cook" for himself because of the excellent directions. Thanks, MK for a great product and service.
~Jennifer K.
---
I would hate to contemplate my life if you weren't there to feed me. Consistently superior quality food - what more can you ask for?
~Joey P.
---
My family and I are accustomed to home cooking, so I was hesitant to try a precooked meal. I ordered the chicken pot pie and I initially didn't tell the family that I purchased a precooked meal but after they raved over it I told them. They asked what else I ordered. I told them that this was the only thing I ordered and they demanded that I ordered more and I promised them I would. Great meal! Family very pleased!
~Nicola J.
---
My 86 year old father lives alone in northern Wisconsin in a log cabin he built in the woods on Lake Michigan. He has truly enjoyed the pot roast, beef stroganoff, ravioli, chicken parmesan and apple pie. I do not know if the joy of receiving the packages on dry ice or telling the tales of the tasty meals are more fun for him! I know his spirits are lifted as well as his nutrient intake levels. Thank you for this wonderful array of meals and the excellent service.
~ Elizabeth S.
---
I sent these to my Mother in law. She was in Florida for a few months, and I was unable to get there and fill her freezer. Well. SHE LOVES these meals, has called me after each of them saying: "How Perfect they were". I am going to order another batch in the next few days. Wonderful!
~ Mara
---
I was very pleased with the service I received from MagicKitchen.com. The food was delicious and a great convenience for me as I am a busy professional who does not have much time to cook. Also I live in an area that is kind of far and so many food delivery services or restaurants do not deliver. I was very pleased to see that MagicKitchen.com delivers to me :-) I will definitely be ordering from you again. Thank you for a wonderful experience. :)
~Amber D.
---
We have been very pleased with the meals that we purchased from you. This is our third order... we are trying some new things. We had previously ordered from DineWise and there's no comparison. Your meals are far superior in taste, quantity and quality than theirs. I don't like to cook for the two of us, and we like good food - we're sick of eating out. Thank you for being there.
~Zina
---
I have been very happy with the items I purchased. The dishes are very high quality and I find I am more satisfied and enjoy having a more varied diet with the additions from MagicKitchen.com. If you are wanting to lose some weight they have some entrees that are low in fat and calories and are so much better than the Jenny Craig, Weight Watchers and Nutrisystems. I tried them first on a promotion but have now made them a permanent staple to my diet.
~Linda G.
---
I asked for Saturday delivery. Fed Ex was supposed to drop it off, even if I was not there. MagicKitchen.com was aware of the problem when I called them and made sure that I was satisfied. Awesome customer service. And, the steak I got was very good.
~Mike L
---
I found your food to be outstanding! I am a vegetarian and I found lots of good stuff to order! It is very tasty. I love the convenience of you delivering it right to my door....The labels are great - they are very easy to read.
~Shawna C.
---
I sent my son who is in the Army a week of meals and he raved about how delicious everything was. MagicKitchen.com was easy to work with and has EXCELLENT customer service. Thank you for helping an Army mom send a little bit of home to Alaska.
~Susan G
---
When I had to have major surgery my friends pitched in and gave me a certificate for MagicKitchen.com and another service (whose name I won't mention). We ordered from both. The other company's food was given away after trying two of their entrees. We keep ordering from MagicKitchen.com because the food is excellent and easy to prepare. Especially love the desserts.
~Debbie H
---
My mother recently fell in her apartment. Fortunately her injury was not serious, but it did prevent her from getting out for almost two weeks. The excellent meals provided by MagicKitchen.com were her primary source of nutrition throughout her recovery. Her spirits never sunk into depression because "I've got my dinner in the fridge!"

Mom is coming up on two years of meals. Thank you!
~Chris C
---
MagicKitchen.com has been a God send. My parents have been through some much in the past few years with health concerns. We live far away and wish we could do more. I found MagicKitchen.com on line and have sent numerous packages that my parents absolutely love! The shrimp fettucini is their favorite but, the madeleines dipped in chocolate and the comfort food bundle are homeruns too! Thank you MagicKitchen.com for allowing us to help our dear parents despite us living far away from them.
Best, Abby

---
This time we tried the Prime Rib which was perfectly marbled to enhance the flavor of the roast. My husband ate more than he usually does when I cook a rib roast and said it was delicious which is a plus in my book as usually he does not comment on the quality of the meat... There were plenty of leftovers so I am going to be making the best fajitas ever. I do not recommend anything unless I truly mean it and I/we loved the one we got here. Truly worth the money. ps...also got my favorite dessert, the U-Bake Apple Raisin Strudel mmmmmmm.
~Nancy H.
---
Great food and fantastic service. The tiramisu was delicious, the flatbread was great for a light lunch and the family potpie was sufficient for our family of 4 and great tasting.
~Lindsey B

---
My father recently had surgery and it has been difficult for my mother to prepare meals on her own. My dad is usually the cook for both of them. As I was searching for delivery meals, I stumbled across your website. I ordered some meals and they were so happy to get them. I got a call from them and they raved on and on about the quality and taste . I will definitely order more!
~Drenita W.
---
I bought MagicKitchen.com for my son who is in Graduate School in another state. I love it because I know he is being fed well and he loves it because it tastes delicious and he doesn't have to really cook anything.
~ Kelly T.
---
I have sent MagicKitchen.com meals to both my elderly live-alone mother and to a relative recovering from difficult surgery. Both have been delighted with the variety and quality of the meals as well as the ease of preparation. I have been happy with the ease of ordering, the fact that I can choose from a wide selection of meals, sides and desserts and don't have to repeat myself too often, as well as the reasonable prices and the speed of delivery.
~Beatrice H.
---
I have been ordering these meals for my Dad. He lives alone and I am concerned that he is not eating properly. He agreed to try these meals and thankfully, he is enjoying them!! He is getting better nourishment and I am sleeping better at night thanks to MagicKitchen.com's delicious meals. They are delivered timely and safely and I couldn't be more satisfied!
Thank you!!!!!!!
~Norah E.
---
Your prompt attention to providing extraordinary customer service and satisfaction, along with the quality of your meals has made me a customer who will use your services again as well as recommend you.
~Angelique B.
---
These meals were sent as a gift for our Mom who is taking care of her elderly father full time. These meals taste great and give her a much needed break! Thanks MagicKitchen.com.
~Ronda K.
---
The deep dish chicken pot pie is the best I have ever had. The chicken marsala was great and the beef with bordelaise was fabulous. The side dishes are very good. I shared these with my girl friend as a bench mark and we were both very impressed. I have yet to try the lasagna but I have high expectations. I will definitely be ordering more. Great food.
~Mark G.
---
Sent meals to my in-laws when my mother in law was having surgery and was going to be out of commission for a little over a week. Since we live on the other side of the country, we could not get there ourselves to help them out. They said that they really enjoyed the meals and there was no way they would have eaten that well otherwise. Thank you for the convenience of this entire process.
~Cam P.
---
This was my first time ordering from MagicKitchen.com and I must say I was very pleasantly surprised! I have purchased meals from a couple different make and take meal preparation storefronts, but wanted to give MagicKitchen.com a try for two reasons. First, I'm a single woman so I hate that those meal prep storefronts often require minimum orders which result in many servings of a three or four dishes. I was thrilled to discover that MK offers
meals for one
and even where there are multiple servings in a bundle -- they are packaged individually! Second, my schedule is really busy right now, and
having the meals delivered
to me is a huge plus!
Now that I've tried MK, I have been so pleased with the quality of the food - the main courses (and specifically the beef dishes) have been particularly great!
~Nicole R.
---
The meals I received were great, they tasted wonderful, and were easy to fix.
I would recommend these meals to anyone.
~Nancy D.
---
I purchased the Italian Lovers bundle for my friend who is expecting her 4th child. Having 3 kids and being pregnant, I wanted to make things a little easier for her. Your meal bundles are perfect. I am even thinking about ordering a bundle for my large family of 7. I love the big variety, too!
~Iria D.
---
We received a huge
care package
, actually two big coolers of your food from my husband's co-workers. The food is delicious!
~Lisa W.
---
I ordered for my ailing mother.She was impressed with the quality of the food and care given in packing. The shipping was on time and I was very happy to have a reliable company to entrust her nutrition to. I look forward to ordering again.
~
Elizabeth W.
---
The entrees I've tried so far are very good. It makes my life so much easier just being able to pull something out of the freezer and heat it up. I live alone so I don't like to cook a batch of something and have to eat the same thing over and over, so this is perfect.
~Pamela M
---
I have had exceptional customer service. I work in customer service daily and this is far the best I've had. The food arrives in a timely manner, is easy to fix and go . I'm always on the go...work overnites and this is easy and out the door. Have placed 3 orders already...the cheese blintzes are THE BEST. Keep up the great work.
~Desiree Y.
---
Thanks for sending such wonderful meals to the Smith Family, I spoke with Mrs. Smith on the phone and she told me that the lasagna was the best they'd ever had.
I will keep you in mind when I want to
send goodies to people
!
~Robin P.
---
This is my third order from MagicKitchen.com and we have been very happy with the food. Although we started ordering because of the
diabetic meal plans
for my mom, our whole family found other items we know will be regularly ordered items, including the uncooked prime-rib roast. Your
meal delivery service
is the best!
~
Teresa D.
---
We have placed two orders, one as a
birthday gift for a senior
member of our family, and one for a relative returning from the hospital. Both times the gift was a surprise that not only helped provide
tasty meals
, but showed how much we care. This is a great idea that provides
quality food that is easy to prepare
and also provides the gift of thoughtfulness and convenience. We will definitely use this service again.
~
Debbie T.
---
I'm very grateful for a quality product to span the distance between my husband and his parents. We are 3,000 miles away, but the products from MagicKitchen.com have become the next best thing to my cooking for them when we visit. I've sent MagicKitchen.com items so often that they don't know what to eat if these great meals aren't in their freezer! Try them... you won't be disappointed!
~Jennifer M K.
---
The MagicKitchen became "Grandmother's Kitchen" following the birth of my grandchild. My son, a full time grad student, and his wife are vegetarians. Because I was unable to travel, I turned to the MagicKitchen who was able to meet their dietary needs. The new parents were delighted with their biweekly shipments delivered to their door. They reported the dishes were just like "Grandma's Kitchen" .... now that really is a MagicKitchen.com!
~
Charlotte B.
---
MagicKitchen.com entrees arrived at my home as a gift after having a new baby! They were simple to prepare, and tasted great. We have become fast fans of the chicken pot pie and crab cakes!
~
Gretchen W.
---
5 stars on all the meals, We order for our mother who is 89 years old and she just loves them.
~
Daniel L.
---
I ordered from MagicKitchen.com before I had surgery knowing that I wouldn't be able to do too much cooking during my recovery. The food was great, and the customer service was beyond good. Will be ordering again soon!
~
Katherine W.
---
I recently visited my Mom and Dad over the holidays and had an opportunity to actually try your meals for myself. They were every bit as delicious and well prepared as I had been told. Thank you for providing this vital service in such an exemplary manner!
~
C Cano
---
I ordered the
seniors package
for my 95 year old grandmother who lives far away from me. She absolutely loved everything in it and it made me feel good to know that even though I am far away I can still makes sure she is eating well. Thank you MagicKitchen.com!
~Jessica F.
---
This food is fresher and better than other
frozen meals
. The packaging is a little much, but the food is very fresh. It's fun to wait for new meals. I love the convenience and will continue to order. I was impressed by how quickly the food came and by how easy it was to unpack and sort out--very convenient for someone like me who gets home late and wants something quick but healthy (and tasty).
~Jennifer B.
---
I appreciate your prompt and clear response to my question. I am delighted to learn firsthand that your customer service is as exceptional as touted. One of the primary factors in my decision to order from MagicKitchen.com was the many, varied, and enthusiastic testimonials; the combination of simplicity and flexibility and the apparent ease of use of the website were also considerations. I'll place my order now!
~
Betty P.
---
Not only does MagicKitchen.com's food taste fresh and delicious, they deliver it in a timely fashion and the serving sizes are perfectly portioned.
~Elyse L
---
It was very easy and affordable to order a weeks worth of meals for our family when they needed it. They were blown away with the idea, generosity and thoughtfulness. Thank you MagicKitchen.
~M. Grein
---
Months ago, the company where I was purchasing my food unexpectedly went out of business. I was searching around the Internet for a new source and I came across MagicKitchen.com. I have been a steady customer ever since. I buy the healthy meals packs, two weeks worth at a time. There is great variety, the food is well-prepared, nutritional and very reasonably priced. The staff has always been helpful and courteous and I'm definitely a happy camper.
~R. Braunstein
---
I think this is the best idea I've ever seen. I raised a big family and I don't know how to cook any small meals. Also, there are ongoing diseases like Bipolar disorder that burden a person more when they are older. The thing I like the best about these are that they are tasty and nutritious! Thank you!
~R. Gagnon
---
"The thank you I received from the recipient who is recovering from surgery is a fabulous testimonial: The food is wonderful, easy to prepare and "what the doctor ordered". We really appreciate your thoughtfulness. My apartment is small and the kind of cooking that the food you all sent allows is perfect - simple, easy and very tasty.
I have sent your link to SEVERAL people who may or may not have placed orders yet, and I heard of your company from a cancer patient who enjoyed the meals during their ordeal last year as well. Thanks for the awesome service!"
~S. Dochterman
---
My mother recently broke both her ankles and can't do much of anything right now. I placed an order with MagicKitchen.com hoping she and my dad would have something quick and easy to prepare for dinner. I couldn't be happier with your company. Your website is easy to use, shipping was very fast and the quality of food is excellent. You've helped make a difficult situation much easier for my parents. Thanks!
~A.Scott
---
I wanted to thank you for the excellent service. It was my first time ordering such a "service" and although I am not able to enjoy the food (it's in California and I'm in Canada), I hear that it is very tasty - and MOST convenient. The gentleman that I dealt on the phone with was very helpful and personable and although there was a bit of difficulty with the billing because I am from Canada, he worked it all out for me !
I will not hesitate to place future orders with you should the need arise - and I would have no problem recommending MagicKitchen.com to others. Thanks again!
~Heather S
---
Fabulous, tasty, easy to use and well balanced meals! My sister-in-law, mother of a 3 year old and 2 month old twins, says that they have been fabulous and a life saver for her because there has been no time to think about meals for herself and her husband. They have been easy to fix and great tasting.
~Kareen K. W.