Testimonials-Complete Meals Menu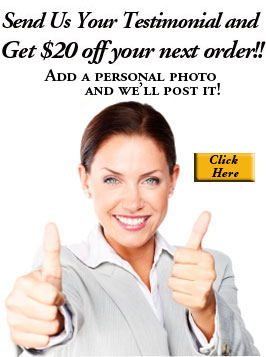 MagicKitchen.com Complete Meals Menu meal reviews and customer service reviews. Send us your testimonial! Click Here.
---
Wow I received my box a few minutes ago I already have tilapia and rice in it is so delicious! I am so happy to have found a place to get prepared meals that are good. I cannot cook for myself so this is just awesome. Compliments to the chef. Thank you.
~Susan S.
---
I have chronic kidney disease. MagicKitchen.com makes CKD stage 3 & 4 meals that are just delicious. When I started eating CKD meals eight months ago, I was in stage 3 kidney failure. My kidneys are now within the required filtration ranges according to my last blood tests! I can see that their wonderful meals are improving my health, and literally extending my life! This company is a blessing to me. Now, I don't have to try and figure out how to cook for myself with the strict dietary limitations that CKD requires. It allows me to lead an active life, with quick healthy meals just a microwave heating away from the table. Thank you so very much!
~Kayte R
---
I was really hesitant as to how the food would taste and if i would be left hungry. What a surprise! The food is GREAT and filling. So happy I did this!
~Alex
---
MagicKitchen.com continues to provide great tasting meals for those with dietary restrictions like low sodium! Thank you and keep up the variety!
~Jaelyn C.
---
Lightly salted potato chips are a great alternative to regular chips. You don't feel like your missing out when everyone else is having chips. Good taste and texture.
~Barbara H.
---
I love the portion controlled meals.I pop them in the oven and do other things while it's baking and voila I have a good tasting meal ready. I don't have to prepare anything as it is already done for me.
~Gloria Duarte R.
---
I have found that all of my meals have been very good. They are not overly salty but have a good flavor. I love how easy it is to fix and know that I am eating a controlled amount of food solving the problem of over eating. Can't wait for my next delivery.
~Juanita W.
---
I order a one-week pack of dinners for my 88-year old mother-in-law for her birthday, Mother's Day, etc. and she is always so pleased with the selections! Most recently, she had some physical problems, and these came in quite handy, as she was having a hard time getting around.
~Anne B.
---
My father loves the meals he receives from MagicKitchen.com. The meals are easy for him to prepare and very tasty, Thanks Magic Kitchen!
~Rick M.
---
Great tasting food. Great for my CKD requirements.
~K. Jones
---
The eggplant parm is very nicely prepared. So far it has been consistently flavorful, tender, and plentiful. Now I have 3 specialty meals that I prefer over my own cooking...and anticipate eagerly. The fact that I have reached a critical but not disastrous level of kidney failure (stage 3) and have found nutrition that meets the criteria, encourages me to keep on keeping on with my acceptance of this disease. The service has been reliable and your communication helpful.
~Janet Hebbel, Baltimore
---
Each meal was flavorful and easy to heat up. I'm on a low sodium diet due to high blood pressure and need to lose overweight. My daughter order the plan for me and I had doubts that my palette would be satisfied, the only problem is, the portions are smaller than I am used to and I found myself wanting more. We will see next month if the portion control helped. Looking forward to the ease of a different weeks menu.
~Steve O.
---
I really enjoy the meals. Very easy to prepare and they are very filling.
~Keith T.
---
Can't get enough of the Spaghetti and Meatballs with vegetables and Beef Meatballs and Alfredo sauce with vegetables.
~Karin C.
---
Meals were fantastic. Being on Dialysis every other day, we're thankful you do this.
~Charles S.
---
Can't say enough about the quality and how helpful the meal packs are.
~Dale F.
---
I am currently on dialysis. It has been really hard figuring out what I am supposed to eat. Having these meals has been amazing. I get the right diet and my labs have improved.
~Nicole M
---
MagicKitchen.com meals have rescued me from the doldrums of mediocre food facing me every night. I look forward to my dinner, with the assurance that it will be healthy and tasty. The price is very reasonable, too. As a bonus, I can easily heat the meal in a conventional oven from frozen to ready in its own container, and then eat from it too. Another bonus is the packaging. While we are in cooler months, I am secure knowing that the food is well preserved until I store it in the freezer in the evening. Thank you, MagicKitchen.com.
~Sharon W.
---
I was recently diagnosed with a kidney disease that requires a special renal diet. This diet can be quite confusing, especially at first. With your "kidney friendly" meal plans the guess work has been eliminated, plus I get some ideas of meals that I may prepare at home later. Thank you MagicKitchen.com!
~Lanetta D.
---
We purchase these for my father since he lives in another state, doesn't cook, and lives alone. He loves them! They are easy to prepare and taste delicious. Now I can rest easy knowing that he is eating healthy food. Thank you MagicKitchen.com!
~Jannory R.
---
MagicKitchen.com has helped me in my quest to lose weight. I work full time and it was always difficult for me to cook a healthy meal when I would get home from work, late and tired. Their meals are delicious, nutritious and healthy. I still have a ways to go to reach my goal, but with MagicKitchen meals, I know I will succeed. Thank you MagicKitchen
~Mayra R.
---
I have ordered many times from MagicKitchen.com since I discovered its low sodium menu. It was just what I needed when my cardiologists told me it was a matter of life or death that I reduce my salt intake - and I do love my salt! Magic Kitchen.com's delicious meals have certainly eased the pain of giving up the salt shaker by creating delicious meals which are also portion controlled. I have enjoyed almost every one and I have been able to eliminate my blood pressure meds and my ankle swelling is gone. I don't totally rely on Magic Kitchen.com, but it is a huge help in my meal planning.
~Dolly J.
---
I have tried a lot of items and have not found anything that didn't taste great. I will continue to buy. I buy breakfast items , dinner items . I have no complaints other than the cost. I am on a limited income(retired) so I can only buy sparingly.
~Linda S.
---
MagicKitchen.com meals have helped out quite a bit. I like that they are not loaded with sodium and are easy to make. This is especially helpful when I come home exhausted from work. It's a bit too expensive for everyday/often use but in a pinch, it is a life-saver.
~Elaine Perez
---
I have been increasing my orders from MagicKitchen.com because I wasn't sure how different these meals would be from the frozen dinners that I have been getting from the super market. I have to admit that many of the meals that I have ordered are very tasty. As a widower I don't cook so MagicKitchen.com meals are exactly what the doctor ordered.
~Marvin R.
---
I love love MagicKitchen.com. Quick easy way to eat healthy. No fuss!
~Vida V
---
I wanted to share with you guys that today my dad had a nutrition consultation with the Mayo clinic in Florida. She was thrilled with his results(number wise) due to his food intake. I happily shared your company's information with her. She is excited to inform her patients about your wonderful food. I am filled with joy to know that not only my dad may be benefiting from these meals but hundreds of other struggling /sickly people will also benefit. We never wanted to uproot our father and interfere with his golden years. Now he can stay in Florida a little bit longer and enjoy life as independently as possible. Thanks a bunch.
~Vida V.
---
I enjoy all of my MagicKitchen.com dinners - they're varied, good ingredients, nice portions - except for the ZUCCHINI! One of my least favorite veggies. Everything being equal, complaining about zucchini seems excessive.
~David P. S.
---
I am an 89 year old Senior with Diabetes Type 2, HBP and few other health limitations. I no longer "cook" and live independently, I was eating another program that was okay for a while but was so bland and boring. Your meals taste very good, I'm trying to lose some weight while keeping my sodium and other things lower which my Dr recommends. This is not easy to do as a Senior if you shop at the grocery store. My daughter is very particular about my foods and she found this program for me, I'm grateful. The cost is a little more than I'd prefer but I'm happier with it than the other one. If I lose a few pounds I'll be even happier.
~Helen B.
---
I have gotten 3 orders so far, the bundles and single meals. I'm on a renal and diabetic diet. I found the meals to be tasty and very convenient, just pop them in the microwave. I'm on a low budget and find this program to be affordable. I will continue to keep ordering.Tthank you so much for offering this program.
~Frannie P.
---
Diabetic meal packages 3B and 7B are outstanding. Ease of preparation and very reasonable cost given the quality of the meals. Diabetic prep is outstanding. Great go to menu on those days when quick meal preparation is a necessity. Thank you MagicKitchen.com! I have recommended you to the in home care company, which occasionally takes care of my mother, Synergy Home Care located here in Colorado Springs to pass on to their clients who may be in need services you provide. I'm a fussy customer both with in home care service and also the food I provide to my mother. I'm lucky to have found you both! This is my third order from MagicKitchen.com and I will be purchasing meals from you all again in the future.
~Dwight S.
---
Hi, I have made many large meal orders for my mom. I asked her what she would want to say about your food. Her answer was, "Tell them I love it and eat every bite". This is no exaggeration. She eats everything. My mom does not wear her dentures, has diabetes and severe rheumatoid arthritis. I do cook the meals for her but she really enjoys the variety and freshness of the food. Your service has made us both very happy. Thank you MagicKitchen.com!!!!
~Lane
---
Brother Ronald continues to enjoy the meals. Very helpful for his diabetic needs. Thank You.
~Dale F.
---
Love the service. Just wish you had option for larger portion purchases.
~David L.
---
I am a kidney patient and ordered the Stage 3& 4 meals for renal health. I am pleased to say that the meals are very flavorful and cost effective. The meals have already been planned out for low sodium and potassium making it an easy way to care for my kidneys.
~J.T.
---
I order the renal meals for my husband. They are delicious and easy for him to take to work. While everyone is eating "fast food", he is enjoying a hot, healthy meal.
~Mary M.
---
So easy, so delicious. Delivered on time. As a senior I am tired of cooking for 1 you have made my life easier and healthier, thank you.
~Virginia L.
---
My dad really likes these, and they are so easy to prepare. I love being able to send these to him. He lives in VA and I live in MT, so it's something I can do for him, even though we live so far apart.
~Lee S.
---
Seriously true story.. I've been ordering your meals for the past month for my mother and lo and behold even though she is a very picky eater she now is saying the food at the assisted living place she lives at has gotten a better. Yep I've been giving the meals to the cooks and they serve them to her instead of their menu.
~Dion T.
---
I find the Diabetic meals to be very good. Being a big person, I have to get use to these portions, which I know are correct. My readings have been great since I started the meals. Thank you very much!
~Mike W.
---
I have a habit of not eating healthy enough; I don't eat enough vegetables, and I eat too much sugar. I also get bored of the frozen food items available in grocery stores. I love ordering MagicKitchen.com portion controlled meals for my lunches at work. I know I will be getting a tasty meal, with enough vegetables to keep me healthy!
~Sylvia V.
---
We ordered these for a family member with two little kids that have dietary restrictions and they loved all of the dishes they received. It was easy to order and get set up. We will definitely be ordering again!! Thank you for a great service.
~Shawna M.
---
I appreciate the prompt service, and my brother enjoys the food.
~Dale
---
The food tastes good and it is packaged well. It is exactly what my husband needs because he has been very ill with advanced heart failure and water retention. He has lost water pounds already.
~L. O'Connor
---
All meals never disappoint! My husband is on a renal diet and the meals satisfy his cravings while still Fulfilling his dietary needs. So tasty, too!
~ Mary.M
---
Everything I have tried from MagicKitchen.com has been wonderful. Food is great for those with special diet needs. I would recommend to anyone. Prices and quality would rival any restaurant. Thank you MagicKitchen.com!
~Albert J.
---
I have tried many meals programs, but the quality was insufficient for me to continue...this is the first meals program I can envision helping me manage my diabetes long term and weight goals long term. My A1C is decreasing and the food tastes good. Thanks so much for this program.
~Charles C.
---
I order these foods for my father. He is so happy with them and thankful. I am very grateful there is such a company as yours. My father is 81 and healthy but would rather not eat or just grab something unhealthy, than cooking a healthy meal. Thank you for what you all do at MagicKitchen.com!!
~Addie B.
---
I am disabled and need to eat a low sodium diet to prevent edema. The prepared foods make it easier for me to serve myself when need be, and the low meals are tasty and beneficial in helping me keep track of my sodium intake. My housemate shares the meals with me and he also enjoys them.
~Robin R.
---
Thank you so much for these specific meal menu, I have a brother on dialysis that has to stick to a strict diet, I'm across the United States from him so you make it possible for our loved ones to eat well. Sincerely
~P. Smith
---
MagicKitchen.com has been absolutely wonderful. They ship quickly, the meals are well packed and protected in a cooler. The food is very good quality. My family is very pleased. Thank you for the low sodium options, they are helping to keep my 84 year old Dad on the right track!
~Marie
---
I just recently ordered for the 1st time & everything was so "delicious"!! The chef & everyone at MagicKitchen.com are just fantastic. Since I am disabled & do not have a stomach, it makes everything much easier for me. Thank you MagicKitchen.com!!
~Robin G.
---
I have enjoyed the meals overall. Some dishes have actually been excellent. I like the convenience of having the meals delivered fast and your customer service is the BEST! One of my orders was lost by the shipper. Your customer service dept, immediately re-shipped my whole order and I received the new shipment only a couple of days later. I appreciated the effort everyone made and the help I received from all of you!

~Magda A.
---
Meals are perfect for me as I need low sodium and they are quick and easy.
~L. Wickstrom
---
I was confused as to what and how much of certain foods I could eat having stage 4 but MagicKitchen.com has been a true blessing. It is so easy to order and prepare. No more guessing and the food is great!
~Denise F.
---
The Breakfast Meals are outstanding. Whether you're a Sr or Sr couple of these are perfect. You will love the chef's choices. Great food. Very easy cleanup. And did I mention how nutritious they are. Perfect! We love them all.
~Lisa R.
---
My mother is 95 and still lives in the split level house I was born in. As she gets older she doesn't cook or get out too much. I sent her a MK bundle and wasn't sure how she'd like it but when I asked her about it, she said they were very tasty and liked them a lot. I get the Senior Special Diet meals. It is a comfort to both myself (who lives 2000 miles away) and my siblings to know that she is getting decent meals and likes them. We were challenged with how to get her meals since she doesn't want home health care and, for the most part, she is doing fine on her own. Thank you for the great tasting meals!
~Jane R.
---
My husband needs a renal diet and Magickitchen made my life easier not worrying about what food to cook . They just deliver good food that fits my husband's diet.
~Harriet
---
Meals were excellent. Perfect portion for seniors.
~Nancy P.
---
We ordered several meals for my sister-in-law who is dealing with cancer. She has tried the Salmon Caponata and the Creamy Tarragon Mahi. Both were delicious. She can't wait to try the others.
~Marilyn B.
---
See More MagicKitchen.com reviews here.


Actually, I haven't had a lot of orders, but of the dishes I have had are really good. I need food for a diabetic & other meals I have had sent to me have had too much sodium, additives, preservatives which I am allergic to, so I was hesitant. No problem with any of that, & I enjoyed all that I have ordered, & will order from time to time when I can afford it. They stayed true to what they said about the "diabetic diet". I have added some lemon, spices, etc. no salt type stuff, & that made the veggies taste to me great. A little butter does not hurt in a diabetic diet you need a little fat, high fiber & high protein. I am very pleased, & believe it or not, the sweet potato dish was enough for two times & it was great, I loved that.
~P. Terkelsen
---
Over all these meals are very tasty. I took one of the sleeves to my dietician since I have stage 4 kidney disease and congestive heart failure, plus diabetes. She was impressed and assured me I could make these part of the on-going diet options. My grandkids and daughter enjoy the muffins and corn bread toasters as much as I do. A little more variety and a little more seasoning in the veggies would make them even better.
~T. Washington
---
Just received my meals today & I tried the beef patty with the cheesy chipotle rice & it was fantastic!!! Thank you so much for what you are doing for people. I will definitely be trying the other meals & will also review them...Great Food!!!
~R Gibb
---
The low sodium meals and diabetic low sugar meals really help me keep my numbers in line. I enjoy every bite.
~ Robert Jones, Jr.
---
So glad I found you! My 90 year old father, who is on dialysis, loves your food!
~Margaret
---
My mother recently underwent a minor medical procedure that left her temporarily unable to prepare meals for herself. I ordered several special dietary meal packages from MagicKitchen.com. My mother was overjoyed with the quality and selection. Not one complaint. Her meal packages were always delivered promptly.
~Kenneth G.
---
With monitoring my intake, doing the portion controlled meals from MagicKitchen.com and working out regularly I have lost 20 lbs in last 4 months. Yay!
~Deanna L.
---
Low-sodium food was delicious. I really enjoyed all the meals and so many choices. Food was packaged very well. Thank you.
~Roberta M.
---
I bought these for my Mom and she is enjoying them for portion size, flavor and ease of warming up. She hasn't tried all of them yet but I will see what she likes and order more as her diet allows. I like how you can cater to the date I need them delivered to my Mom. I hope to continue you use your services.
~Tish Dwyer
---
I order food for my mom. There is not a dish she doesn't like. Her favorite is the Manicotti!!
~Deb K.
---
The variety of your menus continues to amaze me. Every time I order, there are new combinations of meals. And the delivery is very swift and well done!
~Ruth S.
---
I have been ordering the renal meals for about 6 weeks, I have lost 12 lb, feel great! My Dr .said my labs look better .
~Connie P.
---
Since I have been eating your dinners I have had no problem with my GERD, and I do attribute that to your dinners. As a recipient of these meals, I must say they are truly quite tasty and very filling.
~Pauline A.
---
I look forward to all my delicious meals, even my guest enjoys my renal diet!
~Miriam D.
---

My son really likes these breakfast meals. The next order will be the third one. They are very convenient especially when the weather is bad and he can't get out.
~Bonnie A.
---
I have been looking for a healthy portioned meal to assist me in my weight loss goal. I find that Magickitchen.com has excellent healthy foods to assist me in my weight loss Journey. The meals are well proportioned and taste excellent.
~Gina P.
---
Thank you MagicKitchen.com! I live in CA and Mom lives in NJ. I love knowing I can provide her with yummy meals that support her specific needs and on a budget. She loves trying the new items and loves relying on her old favorites, spaghetti and meatballs! This service has been a blessing to our family...thanks and keep up the great work! We will be sure to pass the word on.
~Holly B.
---
This is truly a godsend for a renal patient. The meals are so convenient and delicious. Thank you for making mealtime uncomplicated!!!
~Beth T
---
You continue to please me with your great meal selection and on time delivery. I have tried your Renal meals as well as some low sodium and others. I am still an avid fan of MagicKitchen.com.
~Barry G.
---
I was recently diagnosed with Type 2 Diabetes and found MagicKitchen.com on the web. The entrées were all excellent!
~Walter C.
---
My husband really enjoys your renal meals. What a convenience to have his dietary needs met and a pleasure for him that the meals are so tasty. Delicious!
~Mary M.
---
I love the convenience and taste of the meals and am so comfortable that they meet my daughter's dietary restrictions. Thank you!
~Melissa M.
---
The meals are fantastic. I order these for my mom, she is on dialysis and has diabetes and congestive heart failure . So she can't cook for herself and know every ingredient that goes into her meal planning without making her sick. Thank you MagicKitchen.com for making
meals for patients on dialysis
. My mom can finally eat without being scared of eating the wrong food.
~Olga H.
---
The food is uniformly good. What's more important it meets my dietary needs and caters to my diabetes, low sodium and renal diet.
Benjamin B.
---
Just finishing my first order. Meals are good. I add my own quick salad or homemade soup to the meal. Its my husband who has to have the renal diet but I order the same and eat with him. Formerly we ate many meals out or did take-out. Because of high salt in restaurant menus--that option is no longer available. MagicKitchen.com has saved my sanity!
~ Susan B.
---
I need to lower my salt and potassium intake, and your renal diet meal was just what the doctor ordered! Since I am not a good cook, The prepared meals are so tasty and easy to cook. I definitely will continue to order meals from MagicKitchen.com. Thank you for making my life easier and healthier.
~Ernest B.
---
The renal diet meals I have tried so far have been great, and they meet my kidney disease requirements in terms of potassium and salt limits. And they taste great, too. Thank you for solving a dilemma for me. I will definitely continue to order more meals.
~Ernest B.
---
So far the meals have been great! I haven't had chance to eat all 10 meals yet but I'm sure I'll be ordering more meals again. The meals were very tasty for being meals for people with kidney problems.
~Fred V.
---
My parents are extremely pleased with the meals, very tasty and no mess cleanup! The low sodium keeps my mother on her medically necessary diet. Thank you so much for providing this service.
~Debbie R.
---

Purchased the MagicKitchen low-sodium individual meals for my 90-year old mom who was recently put on a low salt diet to eliminate swelling in her legs. She likes these meals and they are as easy to prepare as a traditional TV dinner in the microwave, but taste a great deal better. Mom even commented: "Hey, this is no ordinary TV dinner". Very pleased and highly recommend.
~Barry R.
---

I was amazed at not only how tasty each meal was, but how filling. I've been on a "brand-name" diet system, but needed a break from their processed foods. Your meals were nutritionally comparable or better, and head & shoulders above in taste! I'm looking forward to placing another order soon!
~Carol B.
---
My father has kidney disease and is a diabetic. He has tried to make meals for himself but realistically he does not have the patience or the knowledge to create healthy meals for himself. Purchasing all his, breakfasts, lunches and dinners through MagicKitchen.com has been the best thing for him and me. I no longer have to worry if what he is eating is good for him; now I know it is.
Life is hectic enough and with meals from MagicKitchen.com, I now have one less thing to be concerned about. Thank you MagicKitchen.com!
~Chris L.
---
Renal diet meals -- My husband was recently diagnosed with ckd and these meals are wonderful. They're so easy for him to take to work and they taste delicious!
~Mary D.
---
Having used other online prepared food sites for dieting, I must say that MagicKitchen.com is the BEST. The deliveries are as promised and well packed. The meals are surprisingly tasty and very well presented. Being on the Renal Diet and having these meals available is very important to me.
~Barry G.
---
I love the bbq beef brisket and the chile colorado. These dishes are very tasty. This is the second time I have tried them. I also love the meat loaf and the charbroiled steak patty. It is also good to know that such tasty dishes are also healthy for me!
~Sylvia V.
---
It is a great help for us in sunny Florida where the weather is hot all the time and cooking is taxing. These meals are helping me enjoy life and not worry about cooking. The special menus are helpful keeping up with my doctors order to control my diabetes and chronic kidney disease (CKD) that I was diagnosed recently. My wife thanked me to relieve her not to labor in the kitchen daily. Great variety of dishes so dieting not ending up being bland and boring. I especially like the chicken dishes, one of my favorite is chicken marsala, it has a homemade flavor with lots of mushroom in the delicate wine sauce, just the way I like it. Yeah, supermarkets offer similar food but those foods also contain a lot of salt, MSG, and other ingredients that can be harmful. Thank goodness for MK Complete Meals menus, I can avoid all these harmful ingredients and keep up with my goals without sacrificing flavor.
The meal package is perfectly packed with dry ice, so I don't need to worry about getting spoiled food, even if I play golf, I do not need to rush home to unpack.
I particularly like the seasonal special offers, a good time to stock up, what a great way to appreciate customers.
~Zoltan B.
---
I bought these for my dad who is on a restricted salt diet and he seems to really enjoy them. They are also very appealing to the eye, look fresh and fast frozen. I will be ordering again.
~Edna
---
The foods are awesome! I have not had one yet that I did not like! I love the ease of managing my diabetes by just pulling a dish from the freezer!! I'm going to try the breakfasts next!
~Marilyn J.
---
I bought these as a mothers day gift for my mom who is a diabetic. She really liked them!
~Judy G.
---
Wow! Fabulous food. I love the portion sizes and the food quality is Outstanding! These meals are far better then anything you can get in the frozen food department in the stores. These foods are worth the price to pay. Also, I am trying to lose weight so I purchased the meals for those trying to lose weight. They supplied me with meals that only have 2,000 calories a day. It has really helped me to lose the weight and feel full at the same time. Thank you.
~Susan P.
---
I have been ordering the portion-controlled meals. They are a great alternative to the ones available at the grocery store. They are low in sodium, and you can add your own seasonings if you wish. The variety available is very good. Each entree is usually served with two servings of vegetables, which makes the meals more healthy. I appreciate the convenience of having these meals as healthy lunches for work.
Sylvia V.
---
My wife and I began purchasing the diabetic friendly meal packs for her mother. Since she began eating these meals her insulin doses have been reduced 50%. She enjoys all of the meals.
~ Dale S.
---
I bought the meals for my mother because she is not able to prepare food. She was surprised at how good they were especially the breakfast meals. She looks forward to her next order.
~M. Boyce
---
Meals are great and they were delivered on time and in great shape. They are much better than any I've bought in stores.
~Hansel H.
---
I ordered a lot of the low carb, low sodium things as well as a complete nutrition meal pack. The foods that I've tried have been amazing. The delivery was fast, and I will be ordering again, as soon as I'm finished with the current order! Thank you for making this easier for me to lose weight for an upcoming surgery without having to make my kids or husband eat low carb and low sodium meals!
~Karlin B.

---
The meals have been a life saver for my Dad. You are providing a great service!!!
~Sheila M.
---
My niece is a VAD patient and on a low sodium diet. Your meals have made things so much easier for her as she has had many adjustments to make. Thanks for your help.
Donna A.
---
I have been nothing but pleased with everything I've tried from MagicKitchen.com so far - I'm currently enjoying the diabetic-friendly meals and they're awesome! Would love to have the budget to order more often but for now I'll enjoy each morsel as often as possible!
~Alison
---
My dad and I purchased these meals for my mom who is diabetic. They are convenient and my mom says they are tasty.
~Joseph B.
---
The low sodium meal plan is working out great. My blood pressure and weight is dropping. My taste buds, and doctor thank you!
~Craig L.
---
This was my first order and I'm not disappointed. The two meals I have eaten so far were excellent!! I definitely will order again, and tell my diabetic and senior citizen friends about your program!
~ Anna B.
---
Your renal diet meals for my husband have saved my sanity. He enjoys them a lot.
~Sue P.
---
I'm the primary caregiver for my 89 yr old uncle who has Alzheimers. MagicKitchen.com is an integral part of supporting me in caring for the both of us. The time it saves me in preparing a meal for the both of us is a God send. We love the Eggplant Parmigiana and Stuffed Peppers the best. In fact I'm overdue in ordering more. I usually buy enough to supplement our menu for about three to six months.We love the senior meals for our father. He doesn't stop talking about how delicious and wonderful they are. They are the perfect size portion for him. He actually looks forward to dinner every single day.
~Gail F.
---
I want to say that I have been ordering the dialysis prepared meals and they are very good and also have helped with the stress of trying to figure out how and what to cook for my diet.. My labs have also improved since eating these meals. Thank You! ~Cindy
---
MagicKitchen.com diabetic friendly meals are just what the doctor ordered. They are nourishing, tasty and priced right. Thank you for making life a little easier.
~Roger I.
---
I purchase these wonderful dinners for my dad. He is 84years old a diabetic and needs to have low sodium foods because of a heart condition . He enjoys these diabetic meals very much. These meals it very easy for him to stick to a good diet. It has made his life and my much easier.
Thank you~Lyunn L.
---
With so many low sodium, diabetes-friendly meals to choose from, my special needs friend has never eaten better! Before her stroke, she prepared her own meals but did not look forward to mealtime. Now she is eating better—and enjoying it more—in spite of her physical limitations. Thank you!~ Bob B
---
The meals are really good. I enjoyed them very much and they are filling. I started them because my bloodwork showed me being on the verge of dialysis and now I am doing much better.Thank You!
~Cindy
---
I ordered the diabetic breakfasts for my 81 year old mother. She lives alone and routinely ate cold cereal for breakfast. When she tired of this, she often only had a cup of coffee. She loves these breakfasts and looks forward to them. I no longer worry about her eating well in the morning. Thank you!
~Rhonda T.
---
I first ordered meals from MagicKitchen.com for my dad two months ago. He is a stage 4 cancer survivor and in need of a healthy meal delivery program that is easy to prepare. Dad is enjoying these meals and has nothing but positive feedback from the ease of prep and clean up to the taste of each meal. MagicKitchen.com has been a a true success story for our family.
~Tonya H.
---
I received food from the dialysis menu. It was good. Never found any other site that caters to my situation. Cooking special menus for One is not easy. So Thank You.....will be ordering more and sharing site with other patients.
~Pam L
---
I purchased the #4 Diabetic Low Sodium meal pack for my mother. She has loved every meal and raves about the quality of flavor. She cannot believe foods low in salt that meet her diabetic needs can taste good. The cost of the meal packs are great. There are often discounts offered that save money. And honestly, if the ingredients were purchased to make these meals, the cost would far exceed the amount to order the meals. It's win win for my mom! Thanks to MagicKitchen.com for providing a great service to those with special health needs.
~Kerry M.
---
Finding already-prepared meals for a wheelchair-bound loved one who has both diabetes and high blood pressure was a significant challenge. Thank goodness for MagicKitchen.com's diabetic-friendly, low-sodium meals. These tasty, healthy meals of generous portions fit the bill perfectly!
~Robert B
---
My mom has been diabetic for years, but recently found her sugar and sodium unmanageable. She lives on her own and has a difficult time preparing meals for 1 that meet her dietary needs. I found MagicKitchen and decided to order it for her. She loves the different meals and they have reduced her stress as well. She doesn't have to try and figure out what she can and can't eat. She adds a small salad or piece of whole grain bread and is completely satisfied. Her sugar and sodium are down and more consistent now. Great products!!!!
~Kerri M.
---
I order the
renal diet meals
for my Mother. She and I both have been pleased overall with the meals. The portions are just right for
the renal diet
. She does not eat them every night because family members nearby also cook for her and she does go out. However, when she does not go out these meals have been a blessing for her! It is peace of mind for me too knowing she is getting good nutrition when we are not around! So far we have ordered on two different occasions and plan to continue!
~Janet D.
---
MagicKitchen.com food comes so nicely packaged to your home with labels and easy to follow directions. The food is just splendid and is a real life saver for folks who just don't have the time to make a good meal all the time. The meals are tasty, well portioned and you're sure to find a meal that meets all palates!
~Paul T.
---
I absolutely love MagicKitchen.com! My father is a diabetic and lives alone. MagicKitchen.com helps me ensure he has
healthy diabetic prepared meals
and the convenience of shipping those meals right to his door is awesome!
~Sevalia J
---
Purchased this product for the first time recently. Could not be happier with the quality. My father is diabetic and these meals provide healthy nutrition, quick and easy and he enjoys them very much. You have a customer for a long time. Thank you!
~Susan O
---
In my family there are 3 family members that need reduced salt and
diabetic meals
. We eat the meals at least 5 times a week. They are economical, tasty and very healthy - the only veggie we don't like is the greens... the rest are very good.
~Myrlee W.
---
We purchased a week's worth of meals for my uncle who lives in Michigan. He's VERY health conscious at 84 years young. He's a loyal Healthy Choice eater - every night. He was skeptical and hesitant at first when he received his MagicKitchen.com order. Once he pulled the first one out of the freezer, he checked out the nutrition label - it passed his scrupulous examination, he popped it in the microwave, and LOVED it! He raved about each meal he had that week. Every night when we called to him, it was the first thing he talked about. I'm getting ready to order his Birthday meals now. You've just acquired your most difficult to win over fan!
~ Jane P
---
I recently ordered seven meals from the
low sodium/diabetic menu
. Each meal was delicious and healthy. I would greatly recommend these meals to a family member or a friend.
~Tom P.
---
I began ordering the diabetic friendly meals from MagicKitchen.com last week. I knew I had to be careful with my diet because I am diabetic. I did not want to weigh, measure and count on my own at home. When I came across MagicKitchen.com I knew they were for me. They work out all the numbers as far as the calories, the carbs, the protein, the fat. All I needed to do was call them up and order and enjoy every meal I ordered from them. I couldn't believe the wide variety of dishes they offer in their meal packs. There are several different
diabetic friendly meal
packs, which include everything from seafood to pasta to meat. I have tried three of the meals so far and i enjoyed all three. The meals provide me with the right amount of nutrients that I need for my diet without me having to do all the calculations. Plus I liked all the meals that I have tried so far. I plan to order from Magic Kitchen on a regular basis.
~ John O.
---
We gave this to my mom as a gift. She is enjoying her meals as much as we love hearing how great they taste. Easy ordering and delivery as well.
~Anita H.
---
Almost all the dinners I have had, have been very good, and I always have to order the
low sodium meals
, and the cooks still make them very delightfully good.
~Neita W.
---
I have enjoyed the meal packs and my last medical check up indicated that they have improved my health and have allowed me to maintain a healthy weight. Thank You.
~William W.
---
They are easy to use, heat and have a nice flavor and for seniors or those that are ill, not too much seasoning. Nice product.
~C Beadle
---
The meals I received were great, they tasted wonderful, and were easy to fix.
I would recommend these meals to anyone.
~Nancy D.
---
The program has been a Godsend to us. It has truly kept my mother out of the hospital since we started with this. The couple of times she has been hospitalized, it was not for congestive heart failure and fluid overload. Truly attributable to the diet that she eats.
~Gary G.
---
We ordered the
diabetic meal bundle
and the low-sodium bundle and found the food to be flavorful, easy to prepare and fresh, fresh, fresh -- even if it is frozen. The beef is EXCELLENT. Tender and very full of flavor.
~
Pat E .
---
These meals were sent as a gift for our Mom who is taking care of her elderly father full time. These meals taste great and give her a much needed break! Thanks MagicKitchen.com.
~Ronda K.
---
I bought these meals for my father who is diabetic. He said the meals were very good, and his blood sugar levels were normal all week. Thanks MK!
~Donna T.
---
I ordered for my ailing mother.She was impressed with the quality of the food and care given in packing. The shipping was on time and I was very happy to have a reliable company to entrust her nutrition to. I look forward to ordering again.
~
Elizabeth W.
---
I have ordered these meals for my mother who is diabetic. She really likes the portions and how tasty they are. Very rarely does she mention one she doesn't like and usually when she does; it is because she has microwaved it for too long. Keep the quality up.
~Cheri M.
---
Thank you MagicKitchen.com for helping us get my parents back on track. We were struggling to get them to eat on a regular basis but your MK special menu meals with the supplements are wonderful. They not only get the entree and side dishes, they get the desert, juice, bread and butter...and in portions they can handle. Now they don't have to think about how to put a meal together...you do it all for them. The customer service is the best I have experienced. If you have a senior on a low sodium or diabetic restricted diet, they will love this!
~Beth L.
---
My brother who has been on your
meal plan
for almost one year now, continues to enjoy your meals and has improved his health via the diet. We are both appreciative of your excellent service and product.
~
Bob W .
---
Magic Kitchen should not be compared to other all-inclusive meal plans such as NutriSystem. The food is better. They can accommodate people with special dietary needs, and their model is not a mass-produced cookie cutter approach. Rather, they are a high quality, custom, regional service. We like the fact that many of their customers are seniors. Very few
food delivery
services we've come across seem to serve seniors well. If a senior has a little wiggle room in their budget and doesn't mind preparing their own breakfasts and snacks, this could be a very good and healthy choice.
~Review on www.bestdietforme.com
---
This is my third order from MagicKitchen.com and we have been very happy with the food. Although we started ordering because of the
diabetic meal plans
for my mom, our whole family found other items we know will be regularly ordered items, including the uncooked prime-rib roast.
~
Teresa D.
---
My dad has finally almost cleared out all the awful frozen grocery store stuff he had, and so will be eating better with MagicKitchen.com more exclusively. His last checkup was perfect for blood pressure and sugar level (he is slightly diabetic). He agrees that the food from MagicKitchen.com is better for him than what he was picking up at the store.
~
John F .
---
I purchased one week of
low sodium meals
for my elderly father who wants to live on his own, but needs help with cooking. The meals were healthy, tasty and so quick with no clean up. A real lifesaver!!
~
Elaine W
---
My mother is 89 & still lives independently in an apartment building. The meals from MagicKitchen.com are an answer to a prayer because they are always nutritious, perfectly proportioned, & well balanced. They have even helped my mom gain some weight, which is a plus for her! When mom isn't feeling well or is tired after a doctor's visit, she can just take a MagicKitchen.com meal from the freezer. It's one less thing I have to do for her. I have recommended your service to many others for their parents. Thank you for consistently offering quality meals & standing by your product in the form of a credit should a meal arrive damaged.
~Deena L.
---
My sister and I sent the
senior meals
to our Father for his 85th birthday, best idea we have had in a long time. He loves them and they are very easy for him.
~Cindy
---
We use the special meals for my husband who is diabetic and these have a made a great difference in the controlling of his sugar levels no more high fastings in the am and the taste is great.
~Patsy
---
I buy the meals primarily for my wife. However, I do eat some of them. We have tried many of the national meal programs and several of the local vendors. Our experience has been that MagicKitchen.com is far better than any of them. We like the flexibility to be able to buy just the mains and add our own sides. However for those who want a complete meal, those are available also. Customer service is the very best. I have not encountered any situation that hasn't been accommodated. Lastly, the meals overall are excellent and enjoyable. Our taste and heath conditions do not allow for eating many foods but we have been able to find several mains that meet our requirements.
~J Spice
---
I want to tell you how pleased I am with MagicKitchen.com and your Diabetic meals. As a diabetic who lives alone, shopping for all the "right" things is not something I look forward to doing each week, cooking for one is no fun. The meals are easy to cook using my oven or microwave.
Shopping for the right things, buying small portions of vegetables, fish, meats and casseroles is not easy to do, well NOW it is, I choose my favorite menus from MagicKitchen.com, besides, there is the glycemic index and carbs to count, fats, salt, and everything else, portion size too! I ended up buying too much and that costs more. I don't have to worry about it all and that is definitely better for my health.
When I choose MagicKitchen.com, I've made the right choice. It's like I could afford my own nutritionist, dietitian AND Chef! Having the confidence that real pros have designed each meal, that not only do the meals taste good but are good for me. Besides, there is so much choice, choice, choice. Every meal has sides that make it a fully satisfying meal and I don't "go hungry" because my MagicKitchen.com meals are designed FOR me. By the way, I'm not only happy with the meals and my success using MagicKitchen.com, I'm excited about all I've learned and I'm even losing weight, not an easy thing for an overweight diabetic to do!
The service is excellent. I look forward to each of my deliveries and I really like choosing what I want, not just taking what is offered. I get to choose the foods I like and that is important to me. I researched all over the Internet, looked at this plan, that plan, MagicKitchen.com makes good sense and is affordable. I could not do as well trying to feed myself. You folks are "Aces".
Thanks for all the good work,
~Jim- Albuquerque, NM