Valentine's Day Food Gifts
Easy to prepare gourmet meals for your loved one

If you have an oven and a microwave, you can put together one of these amazing gourmet bundles like Beef Wellington, Broccoli & Cauliflower with Cheese Sauce, Rice Pilaf and for dessert thaw a rich creamy Panna Cotta. We include a double serving of panna cotta so you have some for breakfast!
Click below for gift ideas including this incredible Valentine's Day gourmet meal.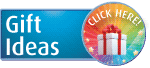 What do you give for Valentine's Day? Diamonds if you can afford them. Chocolates for sure. Maybe a spa day. Valentine's Day flowers, sure.

But mostly you give of your time and love. If you can't cook, heating up a gourmet meal will impress him or her and show them that you truly care. Not to mention, you'll be at home and not in a crowded restaurant. Who knows what might ensue?
---


Get our FREE Gift Ideas eBook!

As seen on


TV's 'The View'!
Testimonials
"My girlfriend was really impressed when she saw what I made for dinner. She was even more impressed when she tasted it. I told her it was magic ;)"
Taylor M.
"My boyfriend was so happy to get the meal I sent him! Being in a long distance relationship is tough, but being able to send him delicious, homemade food from your service helped show him how much I care. He couldn't stop raving about how tender and delicious the braised beef was, and the sides were a perfect accompaniment. Now my biggest concern is that once we live together he will prefer the food from MagicKitchen.com to my own cooking! Thanks for helping us keep the romance alive from 5,000 miles apart."
Amber C.