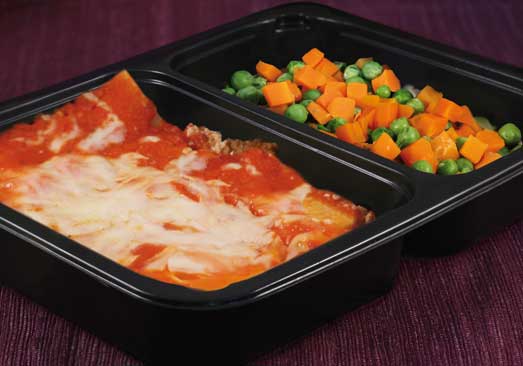 Beef Lasagna with Peas & Carrots - Individual Meal
A beautiful tomato sauce, hand made noodles, onions, mozzarella, a little beef, and the chef's special Italian spices make this lasagna one of the best ever. Order online and get delicious premade beef lasagna delivered to your home!
Serving Size: 12 oz
Ingredients
Peas and Carrots, Beef, Marinara Tomato Puree (Water, Tomato Paste), Diced Tomatoes, Less Than 2% Of: Soybean Oil, Salt, Sugar, Spice, Dried Garlic, Dried Onion, Natural Flavor, Olive Oil, Citric Acid., Ricotta Cheese Pasteurized Milk, Pasteurized Whey, Pasteurized Cream, Vinegar, and Salt, pasta, lasagna, frozen, precooked, wavy, food service, Tomato Puree Tomato Puree (Water, Tomato Paste), Citric Acid, Mozzarella Cheese Pasteurized Milk, Vinegar, Enzymes, Salt, Yellow Onion, Garlic, Canola Oil, Salt, Black Pepper, Dried Oregano, Dried Bay Leaves, Marjoram Leaves, Fennel, Rosemary.
CONTAINS: EGG, MILK, WHEAT
Nutrition
Nutrition Facts

1 servings per container
Serving size
10 oz

Calories

Per serving


370

Per Container

% DV*

% DV*

Total Fat

17g

22%

Saturated Fat

7g

35%

TransFat
0g
Cholesterol

85mg

28%

Sodium

420mg

18%

Total Carb

30g

11%

Dietary Fiber

4g

14%

Total Sugars

8g

incl. Additional Sugars

0g

0%

Protein

26g

Vitamin D

0mcg

0%

Calcium

159mg

10%

Iron

4mg

20%

Potassium

557mg

10%

Phosphorus

232mg

19%
Heating Instructions
Reheating Instructions
KEEP FROZEN - Do Not Defrost. Cook from frozen. If thawed, product can be refrigerated for up to 3 days prior to use. Appliances vary, adjust heating time accordingly. Bon Appetit!
Microwave (Recommended Method)
No need to puncture film on tray. Film will lift when reheated.
Microwave on HIGH for 4 -5 minutes. Add time if needed until heated thoroughly.
Carefully remove film and serve.
Conventional Oven
Preheat oven to 350 F. No need to puncture film on tray. Film will lift when reheated.
Place meal on baking sheet.
Heat in 350 degree oven for 25-30 minutes, or until internal temperature reaches 165 degrees.
Carefully remove from oven and serve.
Customer Reviews
12/06/2022
A filling and tasty meal. Robert H
08/23/2022
The lasagna was good. The vegetables were very good. LORI G
12/24/2021
Purchased for my Dad who needs to follow dietary restrictions for his kidney issue. We're trying to prevent him from going on dialysis. So I checked with his doctor and the guidelines stated for meals is accurate but unfortunately my Dad did not like this meal. He said the noodles were tough, it had no flavor and it did not have enough ground beef. Before ordering meals, I spoke to Jenny and she was wonderful, very helpful. So the customer service was great, but so far this first meal for my Dad was not. Hopefully he'll enjoy one of the other six that purchased for him to try out. Clarence C