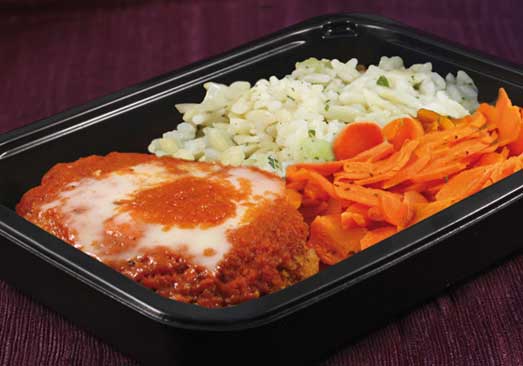 Chicken Parmigiana, Rice & Carrots - Individual Meal
Healthy Chicken Parmigiana served with White Rice and Carrots. Order online and get this delicious frozen meal delivered right to your door!
Serving Size: 10 oz
Ingredients
Chicken Breast Uncooked, Boneless, Skinless Chicken Breast Filets with Rib Meat Containing: up to 15% of a solution of water and sea salt, Marinara Tomato Puree (Water, Tomato Paste), Diced Tomatoes, Less than 2% of: Soybean Oil, Salt, Sugar, Spice, Dried Garlic, Dried Onion, Natural Flavor, Olive Oil, Citric Acid, Carrots, White Rice Long Grain Parboiled Rice Enriched with Iron (ferric orthophosphate), Niacin,Thiamin (thiamin mononitrate) and Folic Acid, Mozzarella Cheese Pasteurized Milk, Vinegar, Enzymes, Salt, Panko Bread Crumbs Bleached Wheat Flour, Yeast, Sugar, Salt, Whole Eggs with Citric Acid Whole Egg, Citric Acid, 0.15% water added as carrier for citric acid, Citric acid added to preserve color., Canola Oil, Yellow Onion, Garlic Garlic, Water, Phosphoric Acid, Sodium Benzoate and Potassium Sorbate (preservatives). Contains: Naturally Occurring Sulfites, Salt, Italian Herb Blend Spices.
CONTAINS: MILK, EGG, WHEAT
Nutrition
Nutrition Facts

1 servings per container
Serving size
10 oz

Calories

Per serving


270

Per Container

% DV*

% DV*

Total Fat

8g

10%

Saturated Fat

3g

13%

TransFat
0g
Cholesterol

80mg

27%

Sodium

580mg

25%

Total Carb

21g

8%

Dietary Fiber

3g

11%

Total Sugars

4g

incl. Additional Sugars

0g

0%

Protein

28g

Vitamin D

0mcg

0%

Calcium

79mg

6%

Iron

2mg

10%

Potassium

271mg

6%

Phosphorus

245mg

20%
Heating Instructions
Reheating Instructions
KEEP FROZEN - Do Not Defrost. Appliances vary, adjust heating time accordingly. When serving, add salt & pepper to taste...Bon Appetit!
Microwave (Recommended Method)
No need to puncture film on tray. Film will lift when reheated.
Microwave on HIGH for 4 -5 minutes. Add time if needed until heated thoroughly.
Carefully remove film and serve.
Oven
Preheat oven to 350 F. No need to puncture film on tray. Film will lift when reheated.
Place meal on baking sheet.
Heat in 350 degree oven for 25-30 minutes, or until internal temperature reaches 165 degrees.
Carefully remove from oven and serve.
Customer Reviews
10/06/2021
Very good. I would order again. Colleen R
06/10/2021
Flavor ok but rice dries out around edges. Carrots were good Jody S
04/09/2021
Review is from my mom. (she is the one that eats the meal, I just buy them for her). She loves both the Chicken and Eggplant Parmigiana. It was filling for her and satisfying. Normally she picks a meal randomly from her freezer and won't know until she is preparing it for the microwave to see what it is... she is always pleasantly surprised when its this one and often requests me to order her multiple of this particular dish. Evangelina P