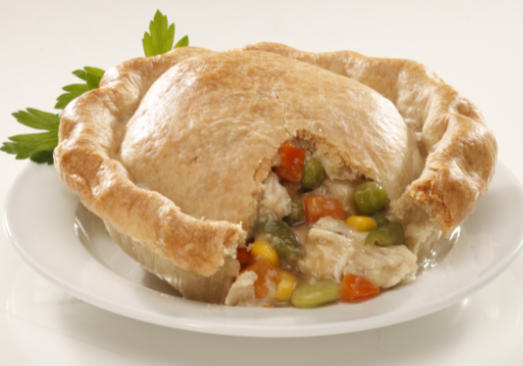 Chicken Pot Pie
MagicKitchen.com goes all out on this classic hearty meal, chef prepared and made with the best ingredients and magical seasonings. Our handmade Deep Dish Chicken Pot Pie is stuffed full of generous chunks of chicken meat simmered in a savory gravy with fresh and healthy garden vegetables and herbs surrounded by our golden, flaky pastry. Only MagicKitchen.com makes Chicken Pot Pie like this! Place an order online today and try our premade chicken pot pie delivery.
Serving Size: 16 oz
Ingredients
Chicken (white and dark meat), wheat flour, palm oil, water, carrots, peas, salt granulated garlic, onion powder, thyme, white pepper, sugar, celery, onion. CONTAINS: Wheat
Nutrition
Nutrition Facts

2.5 servings per container
Serving size
1 cup

Calories

Per serving


220

Per Container

% DV*

% DV*

Total Fat

22g

16%

Saturated Fat

10g

14%

TransFat
0g
Cholesterol

55mg

15%

Sodium

560mg

42%

Total Carb

29g

5%

Dietary Fiber

1g

0%

Total Sugars

3g

incl. Additional Sugars

0g

0%

Protein

23g

Vitamin D
Calcium

Iron

4%

Potassium

Phosphorus
Heating Instructions
General Instructions
DO NOT THAW prior to cooking for best results. Individual appliance cooking times will vary; adjust cooking times accordingly.
Conventional Oven
Preheat Oven to 350 F
Remove plastic wrap
Using a cookig sheet, bake a t 350 for 60 minutes. For food safety, internal temperature must reach 165 F.
Carefully remove and let stand 10 minutes.
Customer Reviews
10/31/2023
The chicken pot pie I am currently getting is not as good as the magic kitchen one. This new pot pie has a sweet crust and is a mixture of dark and whit meat and has fewer veggies. It is okay but not the as good as the magic kitchen one. I wonder how we are to know which pot pie we are getting when we order Nancy D
10/10/2023
Lots of chicken with a flaky crust. Family favorite Barbara L
09/28/2023
Delicious! MaryJane G. S