Answers to Common Questions
Quicklinks:
Nutrition | Packaging | Ordering | Shipping | Miscellaneous
Nutrition:

Hi there, I have an allergy to milk and cheese products. I noticed that ingredients aren't listed to tell whether products are dairy-free or not. Are there plans to make this available?
If you click directly on the item or the product name, it will give you the specific information that you are looking for. There will be the ingredients of the product and also the nutritional information for that product on a per serving basis.
And we have a special dairy-free page.
---
Where can I find out more about the individual products you sell?
We provide all information about each item on the menu pages. There is a detail page for each item with ingredients, nutritional information, cooking instructions, reviews and large photos of the product. Please click on the picture of the product to get to the detail page.
---
On your Home Style Menu, does the nutrition information on the product label cover the entire package or 1/2 of the package (2 servings per package)?
The nutritional information is on a per serving basis. About half of our products come individually packaged and the rest are 2 serving per container. In the case of 2 items per tray, the nutritional information is for one of two servings in the tray.
---
Are your fruits and vegetables organic? What quality is your meat? Are there any grass fed, organic or natural?
We do use restaurant quality product at all times and do try whenever possible to use organic fruits and vegetables, grain fed beef and hormone free chicken. The ingredients are all antibiotic free, hormone and pesticide free. Since our menu is a sustaining menu, at certain times of the year, some product is not readily available or is not at reasonable cost. In all cases we use top quality ingredients and never compromise with lesser quality products, ingredients or spices. Having healthy and nutritious meals is our intention at all times.
---
Do you sell salt-free meals?
We sell low-sodium, but not salt-free, meals. On our Home Style menu the low sodium items are easily identified, as each has a low-sodium icon:

. Low-sodium means less than 400mg per main course , side dish, soup or dessert. However for a bundle meal or a complete meal, less than 700mg. For the Home Style menu we also have a special low sodium page. We also have a full menu of low sodium complete meals that are packaged in single servings. These meals are part of our full line of nutritionally balanced meals. This menu may be found at /menu/MKLSMeals.html.
---
Do you sell low-carb meals?
Yes, we have a low-carb bundle, where each dish has 9 grams of carbs per 100 grams of food or under. Individual low-carb menu items are marked with a low carb icon:

and may be found on our low carb page.
---
Are any of your products Gluten Free?
We have stayed away from a specific gluten-free designation due to potential serious cases where cross-contamination can cause serious concern. We do have a list of gluten and wheat-free products that you may use. Please be aware that they have not been lab-tested and confirmed as gluten-free.
Using the list of unsafe foods: http://www.celiac.com/articles/181/1/Safe-Gluten-Free-Food-List-Safe-Ingredients/Page1.html, we have put together a list of our menu items form our Home Style menu. These meals from our Home Style Menu: Gluten-free menu.
We do have many gluten free requirements from our customers and they are happy with these products.
---
Do you have meals that are diabetic friendly?

MagicKitchen.com has a full menu of meals that are low sodium, diabetic friendly meals that are excellent for people looking for meals that fit a diabetic diet. These meals are strong on portion control, low sodium and carbohydrate controlled. The meals are simple to reheat in the oven or microwave and come as full meals with a main course, 2 side dishes, bread and a butter substitute as well as a dessert, a juice or frozen fruit. For the complete menu on these meals go to our Complete Meals.
We also have a special diabetic friendly page.
---
What do the round icons beside the menu items mean?
Please see our information page for an explanation of the icons: click here.
---
Packaging:
How long can I keep the meals frozen before I cook them?

Our products can stay in the freezer for 6 months or more from when you get them but we suggest that they be eaten within 30 to 45 days to ensure you do not lose any flavor or food value from the product being in a frozen state.
---
Can I return the cooler and packaging that the order comes in?

All the coolers and boxes are recyclable and we encourage everyone to recycle these items. If your local area does not offer recycling for styrofoam, you can find a recycling location here: www.epspackaging.org

Or here: www.dartcontainer.com/environment/ps-foam-recycling. Additionally, UPS will accept them at some of their mailing stores.
What can you tell me about your packaging?

Our packaging has passed the FedEx/UPS test lab procedures for effective packaging.
Please click here for more details and a report.
About our shipping cubes
Polystyrene foam (EPS) shipping containers ensure that our highly perishable foods arrive in optimum condition at the lowest possible cost. These containers offer many benefits:
Safe and light-weight (99% air).
Insulates and cushions contents well.
EPS is very strong and moisture resistant.
Environmentally friendly - No green house (HCFC) gases are produced to make EPS.
Their low weight minimizes energy used for transportation, and curbs product costs.
EPS can be efficiently recycled into new products at a growing number of centers around the country
---
Can your meals be cooked in the microwave?
Almost all of our meals can be microwaved. Everything except about 6 or 7 of our meals can be re-heated in the microwave or oven. Any items on the menu with this icon:

should be cooked in the oven. Some of the items that require cooking in the oven are our chicken pot pie, our u-bake-strudel and some chicken dishes.
---
I noticed that all meals are for 2 or 4 people. Do you have a program for one person?
Unfortunately, many of our menu items would go up significantly in cost if we packaged them for one person.But we do have several options for the single person
.
Look for our Meals for Singles or our One serving Meals bundles or this icon:

on our regular Home Style menu. Look at our Complete Meals as well, those meals are all one-person servings.
---
Ordering:

Can I buy using PayPal?
Sure, call our office toll-free at 1-877-516-2442, and we'll put your order through.
---
Could I get more information about your long-term Meal Programs?
Sure, check out our Meal Program Q&A here. Or call our toll free number to get your specific questions answered.
---
Could you please send me an entire menu and prices?
Our full menus and pricing are located on our website and may be viewed or printed there. You can also order a free catalog here.
---
Can I order just the side dishes or do you have to order an entire meal in order to get the separate items?
Our products on our Home Style menu can be ordered in bundles that come with particular products enclosed. For those that wish individual items, either main courses or side dishes, the a la carte option on the Home Style menu is fully flexible and you order exactly what you want .
---
Do you allow substitutions in your meal bundles?
The meal bundles are designed as quick to order packages for yourself, family or friends. Substitutions may be made on Meal Bundles by either ordering the items al-a-carte on the A la Carte Menu or calling customer service toll free (1-877-516-2442) for us to make the changes you wish on your order. There may be changes in pricing depending on the changes required for your order.
What is the average cost of a meal?
The cost of a meal varies by which menu is selected and the items ordered. A meal can cost between $10.00 and $25.00 depending on what you order. That doesn't include the cost of shipping.
Why do you have two Menus – A la Carte Menu and Complete Meals?
MagicKitchen.com has 2 separate menus. One is an A la carte menu (Main courses, side dishes, soups and desserts are all sold separately) and then there is a complete meal menu (Main course and side dishes together in a single package). The A la carte menu is sold in 2 servings packaging, many of which are packaged separately (Noted with a green icon with a 1S inside). To order an entire meal on this menu, you will need to order the main course and then separately order side dishes, etc. You can also just order main courses or side dishes separately if you want to combine the meal components with food from other sources. The complete meals menu is set up for meal for 1 person (7 meal variety packs for example, provide 7 meals for 1 person). Should you want complete meals for 2 people, and they want the same meal, you would need to purchase 2 separate of the same complete meals. The complete meals menu is broken into several categories for various diets, should you require that. There are about 85-90 different choices of meals on this menu.
Can you tell me the difference between the One Serving Meal Bundles and the 7 complete meal pack 1 or 2?
The One Serving Meal Bundles come from our A la Carte Menu and the food is handmade in small batches. They come in individual serving sizes but the components of the meal are heated separately and require heating from a thawed state for best results. The 7 Complete Meal Packs are individual meals in TV dinner trays that can go right from the freezer into the microwave or oven and are specially formulated to be low sodium, low carbohydrate and low calorie meals.
---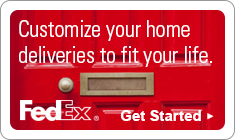 Delivery:
Where do you ship to?
If someone lives there-we deliver there (All of the continental US plus Alaska and Hawaii)!
---
Can I pick up my order from your office instead of having it shipped to me?
Our fulfillment is done from our Kansas City, KS location. We do not store product for retail sale at our office location.
---
How does your shipping work?
We do our food storage and customer shipping from a centrally located warehouse in the Kansas City, KS. area. From this location we can ship anywhere in the country by FedEx/UPS Ground delivery services. This keeps our delivery costs as reasonable as possible to ship to all parts of the United States. MagicKitchen.com rates vary based on the distance shipped from our warehouse, service selected, and the weight of the products being shipped.
MagicKitchen.com only charges you, the customer, what we are charged by FedEx/UPS. You pay the net FedEx/UPS cost not FedEx/UPS list prices! To ensure that your order arrives in excellent condition, with each order we include a Styrofoam cooler and dry ice as well as other packing materials. Given this method of delivery, the total cost of small orders will seem high given the inherit components of getting the meals to you in excellent condition.
When a package is delivered the receiver will receive an email advising the package is delivered.
For a detailed explanation on shipping please click here.
---
Do you ship to Canada?
Currently we do not ship to Canada. Due to complex federal Agriculture Canada regulations we have not focused on expanding into Canada. We may at some point but no plans are in the works at this time.
---
Aloha, Do you ship to Hawaii?
If someone lives there-we deliver there (All of the continental US plus Alaska and Hawaii)!
---
Miscellaneous:
I'm interested in vegan items.
At this time we do not have a vegan menu.
---
I would like to know if your company offers free samples. I am interested in trying your products.
We do not offer free samples of our food. However, when you place an order you can use any of our first time customer discounts.
---
Where are your meals made?
All ingredients are sourced within the USA and all products are prepared 100% in the USA and made in either

USDA and/or locally approved kitchens.
---
Can I purchase a Gift Certificate?
Yes, we have gift certificates available here, and we also have gift packages here. You may also like to check out our meal plans.
If you are buying a gift certificate as a last minute gift, you can either send the link in your order email to your recipient, or print the certificate out from the same link. You can create a group gift certificate by calling our office at 1-877-516-2442.

You can choose one of these options when buying a gift certificate:


I will send the Certificate myself. Don't mail/email the recipient


Please email Gift Certificate to recipient


Please mail Gift Certificate in a gift card to recipient


Please add to group Gift for: (add the group certificate name here)
---
How are you different from the companies that offer 'make and take', where you go in and make the dinners, then take them home for later reheating?
Our program is somewhat different in that our meals are hand prepared by professional chefs, then flash frozen and packaged for shipment to you. You will find our prices similar to those companies, but our meals are fully prepared and cooked and packaged for reheating either via stovetop, oven or microwave. Since the packaging we use goes from the freezer to the oven and microwave and is also recyclable, there is less cooking as well as less clean up with our meals, which means less time and cost for cooking, clean up and washing of pots and pans. Also this means more time for you and/or with your family. Since MagicKitchen.com does not have storefronts, we try to provide hormone free meats and organic vegetables for the same prices. You could say we are the Amazon.com of the restaurant business!!!!
---
Are there other locations for your business?
We take orders centrally for our toll free callers as well as for our online business. At this time we are not considering retail locations under our own brand but we do offer products under other company's labels on a retail basis.
---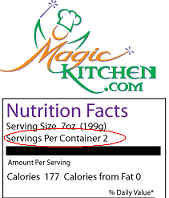 I received a box of your products as a gift. For each product, reading the label does not always tell whether the product is two servings or four.
On each product there will be a full set of information on the product such as ingredients, cooking instructions and nutritional information. Here is a nutritional panel with the servings per container circled. This is where to find the information.
---
Where are you located?
We have an office in California, production facilities in CA, MO, MS and distribution center in MO.
---
More questions? and we'll reply within a day.
Quicklinks:
Nutrition | Packaging | Ordering | Shipping | Miscellaneous
Senior Meal Plans
MagicKitchen.com is serious about Senior meal plans. We have two menus to cater to everyone. The first menu is a la carte meals. They are sold separately; main courses, soups, sides and desserts. That way you can mix and match.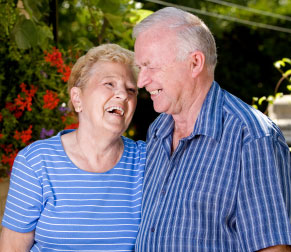 The other menu is our Complete Meals menu. This menu contains meals that are complete. One main course, two sides, all in the same tray. We find that people prefer to heat them up and eat them in their tv-dinner style container, for ease of preparation and clean-up. Ideal for meal plans for seniors.
Find out more in our how to start guide, or call toll-free 1-877-516-2442 and talk to our friendly staff. Senior meal plans from MagicKitchen.com - the most flexible plans to be found!