Terms & Privacy Policy
Terms & Conditions
Customer Service
Should you have any questions or concerns please contact our Customer Service: or call Toll-free 1-877-516-2442 (877-51-MAGIC).
Return & Refund Policy
Since our products are food products, returns are not allowed. Should you have concerns with the quality of our product please contact us. MagicKitchen.com will do whatever possible to make the product right or to return the money paid by you to purchase products and services from MagicKitchen.com.
Order Delivery
Please see our shipping page.
Promos
You can only redeem one coupon, credit or special offer per MagicKitchen.com order. If you would like to use two coupons, you will need to place two orders..
Questions
Feel free to contact us directly: or call Toll-free 1-877-516-2442 (877-51-MAGIC).
If you have weight management issues, MagicKitchen.com can help.
Privacy Policy
At all times MagicKitchen.com will keep any personal contact information provided to us through our website, via telephone or by fax confidential. We do not under any circumstances share the information of our customers with any other companies, other than our business partners that work with MagicKitchen.com to assist us to provide you with our products and services, such as shipping companies, etc. We also DO NOT store your credit card number or other information on our servers. The credit card information is forwarded in an encrypted format to our credit card processor at the time of your order. After the order is complete, the information provided is no longer available on our servers. In order to assist you when inquires are placed by you about a particular transaction, we do store only the last 4 digits of the card number and the type of card used (visa/mc/amex).
We do use cookies and other technology to keep track of your transactions with MagicKitchen.com. The information provided to us will be used only by MagicKitchen.com to provide the requested products and/or services. We may use this information to personalize our website and how we communicate with you. We also use the information you provide us to help enforce our terms and conditions, to prevent fraud, and to keep our website safe. If you have any questions on our privacy policy please contact us directly: or call Toll-free 1-877-516-2442 (877-51-MAGIC).
Currency of Transactions
Since our services are provided from our location in the United States, all transactions will be processed in US dollars.
---
Delicious Gifts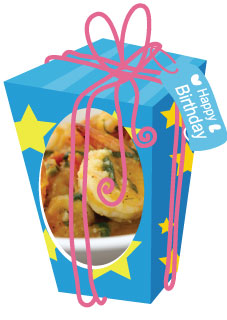 Looking for a delicious gift? MagicKitchen.com has the answer. Braised meats, tender and moist. Home-made pasta with shrimp or meatballs. Side dishes with crisp vegetables or saucy potatoes, and scrumptious desserts. If you are looking for a delicious food gift, MagicKitchen.com will provide it!
Our chefs work day and night...ok, mostly days, but they work really hard to create tasty meals that make wonderful delicious gifts for new parents, birthdays, Mother's Day and every occasion!


Bon Appetit!!