---
One Serving Meals
MagicKitchen.com meals meals make wonderful one-person meals! Our customers think so, anyway.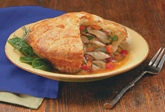 "I'm a single woman so I hate that those meal prep storefronts often require minimum orders which result in many servings of a three or four dishes. I was thrilled to discover that MK offers meals for one and even where there are multiple servings in a bundle -- they are packaged individually! Second, my schedule is really busy right now, and having the meals delivered to me is a huge plus!
Now that I've tried MK, I have been so pleased with the quality of the food - the main courses (and specifically the beef dishes)have been particularly great!"
~Nicole R.
"The entrees I've tried so far are very good. It makes my life so much easier just being able to pull something out of the freezer and heat it up. I live alone so I don't like to cook a batch of something and have to eat the same thing over and over, so this is perfect."
~Pamela M
"This food is fresher and better than other frozen meals. The packaging is a little much, but the food is very fresh. It's fun to wait for new meals. I love the convenience and will continue to order. I was impressed by how quickly the food came and by how easy it was to unpack and sort out--very convenient for someone like me who gets home late and wants something quick but healthy (and tasty)."
~Jennifer B.
See what we mean? Customers love our one-serving meals. Try them and we're sure you will, too.
If you have any questions, please call us toll-free at 877-516-2442.