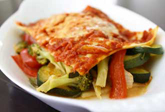 10% OFF !!
For our first-time customers, we offer a different promotion each week! This week, get 10 PERCENT OFF! Simply use promo code
MEALD at checkout.
and take advantage of this offer!!
Delicious, nutritious, convenient meals from our MagicKitchen.com to your table!
Call us toll-free at 877-516-2442!
Other Options

We have a line of meals especially designed for those with medical dietary needs. The meals are Diabetic-friendly, low carb, low fat, portion controlled and low cholesterol. They are heart-healthy and ideal for diet management (gaining or losing weight). Please see our menu here:

Testimonials:
I bought MagicKitchen.com for my son who is in Graduate School in another state. I love it because I know he is being fed well and he loves it because it tastes delicious and he doesn't have to really cook anything.
~ Kelly T.

What a God send these folks are at Magic Kitchen. The food is superb and has added my parents in a slow recovery from many health problems. Give it a try and send it to yourself or a loved one, you won't regret it!
~Abigail T.