Food Preparation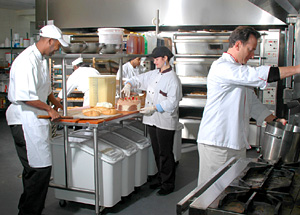 MagicKitchen.com's focus is to provide healthy tasty meals. Our meals are hand-prepared in small batches, in several different production facilities, and then flash frozen to keep in maximum flavor and food value.
When you receive your order, the meals will be frozen and should be stored frozen until ready to consume. All instructions for re-heating the meal will be on the product label attached to the product. If you ever have a question about the meal, re-heating the product, etc. please contact our customer service department either by telephone (877-516-2442) or by email (info@magikitchen.com).
All products we sell are 100% guaranteed to your satisfaction!!! .

"I really love Magickitchen. The food is so fresh although it is frozen & the taste is delicious! I moved to CA from NY couple years ago and could never find good eggplant parmigiana until I bought it from MagicKitchen. Their eggplant parmigiana ROCKS! And I love their blueberry toaster cakes because they are something my grandson actually eats!! Please keep up the good work!"

J Young