Gifts for New Parents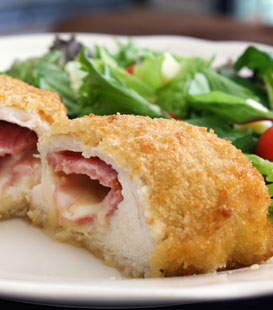 Easy to prepare, delicious, nutritious food for new parents. Give new parents the best gift of all- time to enjoy their new family, with no dishes to do!
Our food gifts are the ideal way to say congratulations and send healthy meals to new parents. The meals are incredibly easy to prepare, and are like meals they would have made themselves, given the time.
The days after coming home from the hospital are hectic for parents. They've got a lot on their minds and are adjusting to the newborn's schedule, so they lose time for other activities such as eating regular meals. People looking for new baby gifts often want to give the new parents meals. These gifts arrive without labeling, so you may decide to pick a get well meal, for instance, but the recipient will not see that description.

It's critical for them to eat well at this time, for their health and the health of the new one. MagicKitchen.com's new parent meals come in convenient containers that are oven or microwave-reheatable. All they need to do is reheat, then put their plates in the dishwasher.
We've selected a number of meals especially suited to new parents, among the easiest and quickest meals we have. Meals like Spinach & Mushroom Lasagna With Light Pesto, Verdura Flatbread,Beef Pot Roast and Scalloped Potatoes.
We have gift certificates too!
Testimonials
"I first ordered food for friends who had recently had a baby. After hearing their rave reviews, we gifted meals a few more times and received similar feedback. Recently we received a meal as a gift ourselves and everything was fantastic. This food isn't the typical frozen meal, it is high quality food delivered in quality packaging by a company who has great customer service."
~Sara F.
"I have ordered meals from MagicKitchen.com a number of times as gifts for new parents and they love their meal gifts! They are great! Thank you! "
~ ~Clara C.
"Our friends ordered the new parents bundle for us after we had our daughter last year. The meals weren't only simple to prepare, but also tasty! Our favorite was the panna cotta. Now, our friends are about to have a son and we'll be sending this bundle to them." 
~Ashley M.
"I recently sent an order of a few items to a new mother as a gift. She lives out of state so I could not make and deliver the food myself, and I found MagicKitchen.com. After reading prior reviews I decide this was the site to order from. The new mom and her family LOVED the food! I loved the selection and ease of ordering. I was able to order complete meals, mac and cheese for the new big brother and even some cookies. I will definitely be placing another order in the future."
~Melissa K.