Christmas Dinner Delivery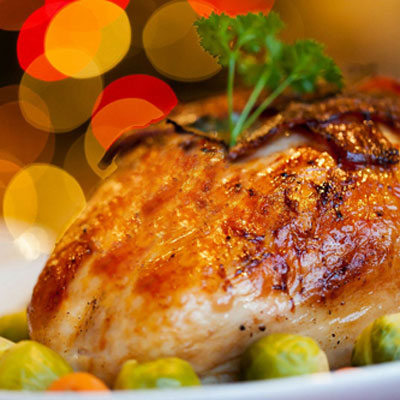 Some years you don't have time to cook a big Christmas meal. It could be that you are simply too busy, but still want to have a sit down dinner on Christmas Day.
Maybe you are empty nesters, and just don't feel like cooking a big turkey for two. Or your children can't make it home, and you want to supply them with a meal.
Regardless of your circumstances, MagicKitchen.com has a quality, chef-prepared frozen Christmas dinner waiting for you.
To the right, you see our Christmas dinner for 4-6 people. That's A whole cooked turkey breast, stuffing, beans, mashed potatoes and smashed maple yams, cranberry sauce, gravy and rolls, and of course, pumpkin pie. There are sure to be leftovers.
We also have 2 sizes of a 2-person dinner with roasted turkey with gravy, apple sage stuffing, French green beans in Mushroom sauce, mashed potatoes and sweet potatoes, rolls and pumpkin pie. Our chefs cook it with love, and flash freeze it. You heat it up and serve it with love. Merry Christmas! See our special diet options below.
The main courses include a variety of meat, poultry, seafood and vegetarian servings. If your taste is in meat, the choices include pot beef roast or seared short rib roast that can also come in red wine sauce. Or the wildly popular beef stroganoff with pasta.
If poultry is your style, the menu includes Chicken Ana Luisa which has meat, cheese and rich cream sauce. And the tender breast Chicken wrapped in Artichoke with spinach and cheese. A recent favorite among our regulars is the succulent chicken breast marsala that comes smothered in rich mushroom sauce. And if you really must have turkey for Christmas, that's fine by us. We will deliver any portion of thickly sliced naturally roasted turkey breast covered with oodles of flavorful turkey gravy.
You could also have a seafood Christmas dinner prepared delivered to your home. Like, the low fat baby clams with linguini marinara. Or the fresh breaded Tilapia fillet with a fresh-tasting sauce. And for the vegetarians in the house, you can now have a Christmas dinner food delivery of fire-roasted vegetable en croute in puff pastry. Or the flavorful mushrooms in a rich tomato sauce shiitake mushroom ravioli. Or the spinach mushroom lasagna with light pesto sauce.
The desserts part of our prepared Christmas dinner delivery include chocolate, carrot, and coffee cakes and fudge brownies. Oh, and Dutch apple pie and cupcakes.
And you can have a single-serving Christmas dinner delivered to your door or you can choose the family size meals bundles for between 3 and 8 servings.
Special Diet Christmas Dinner Home Delivery
Our Christmas menu home delivery also includes the famous MagicKitchen.com special diet meals. You can, for example, order a Christmas dinner delivery of the special diet meals for seniors. Also in the menu of the Christmas dinner delivery are portion controlled meals, low sodium meals and diabetes friendly meals. You can also order renal special diet meals or dialysis friendly meals.
All special diet meals are prepared for the specific nutritional needs of people with any of those special conditions, down to the right sodium content and portion requirements.