Prepared Meals

You may ask yourself, why should I purchase prepared meals from MagicKitchen.com? The answer is simple: Convenience and flavor.
Convenient Meals
Here's a scenario: You got up early, went for a run, fed the kids, sent them to school, made it to work on time, and worked a hard day. When you get home, you only want to spend time with your family and relax.
If you have MagicKitchen.com meals in the freezer, making supper is a breeze. You take them out of the freezer and put them in the fridge before you leave, then pop them in the oven or microwave and serve. The flavor of our oven-ready family meals is comparable to something you might make on a weekend or holiday; the convenience is hard to beat.
Tasty Meals
Perhaps you don't have a busy lifestyle; lots of seniors love our meals, too. Our chefs prepare them in small batches for quality control, and flash freeze them. Then you order the ones you like, and we send them to your door. Seniors who are tired of cooking are thrilled at the selection and quality of the meals, and preparation and cleanup are so easy.
If you know someone who has a special diet to watch, look no further than our a la carte Healthy section or our Complete Meals Special Diet menu. These prepared meals are specially created to give people on special diets the same flavor and selection that our other customers receive. The Complete Meals Special Diet menu is comprised of complete meals, making selection even easier.
If you find yourself reaching for fast food more often than not, then our healthy prepared meals are your new lifeline. MagicKitchen.com meals are hand prepared by chefs, then frozen super-fast to keep in all the nutritious goodness. When they arrive at your door, you can put them in the freezer for when you need them, but we know you'll have at least one of the meals for dinner that evening. They are simply too tempting!
They work for lunch or dinner, and come in all different serving sizes, so they work for busy singles, working parents, seniors and new moms. Try our prepared meals out today!
Prepared Meals Delivered to Your Home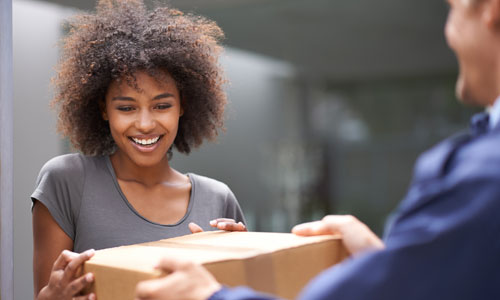 Check this out- the meals go into the oven or microwave in the containers they arrive in. You can eat them out of the same containers, but putting the meals on a plate is more appealing for most people. Recycle the containers, and all you have to do for clean-up is put your plate and cutlery in the dishwasher. Perfect.
Our prepared meals for busy families are delivered right to your door via UPS, making life so much easier for you. Check back often, or let us customize a meal plan for you or your elderly relatives. We update our dishes quarterly, so there are always new meals to try.
Busy families and seniors really benefit from our prepared meals. With everyone's favorite entrees, side dishes and soups ready for you to select you can easily plan family dinners for weeks and even months ahead.
Reheating instructions come on each package, and are also listed on our website for your convenience. Or request them in large print!