A Dose of Good Health in a Dash of Turmeric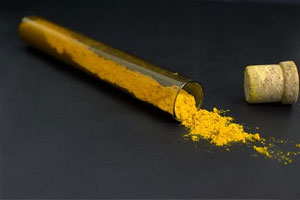 Sugar and spice and everything nice." You know the rest of this little rhyme.
It's been around a long time. Today, we know less sugar and a little more spice is a better recipe for good health.
And there's at least one spice worth using more often to flavor your foods and improve your health.
Turmeric. It has multiple health benefits, including anti-inflammatory properties.
For centuries, it's been a popular ingredient in traditional Indian food. But now it's got a mainstream following. It's being used in omelets, rice, coffee drinks, smoothies, and casseroles. And it's a staple seasoning for many dishes made with chicken, fish, pork, and other meats.
Health Benefits of Turmeric
Break down turmeric based on its nutritional profile, and its active ingredient is curcumin. This compound is functions as a natural antioxidant and anti-inflammatory, which most people need more of in their diet.
In a study published the American Association of Pharmaceutical Scientists Journal, researchers found multiple health benefits of turmeric and curcumin. Research suggest that turmeric may help treat or prevent:
Cancer
Heart disease
Digestive problems
Pancreatitis
Ulcers
Diabetes
Alzheimer's disease
Rheumatoid arthritis
All Things in Moderation
But does that mean dosing up on turmeric might help you live forever? Probably not. Earlier this year a 30-year-old woman died of a heart attack after receiving an IV drip of a potent turmeric solution.
And some data suggests turmeric may alter the way your body responds to medications you may be taking. Ask your doctor about this.
Seasoned with Turmeric
Looking for a few meal ideas for foods seasoned with turmeric? Check out some of these tasty dishes:
Breaded Baked Haddock with Orange-Brown Rice Pilaf, Carrots, and Asian Blend Vegetables
Chicken Cordon Bleu
Basil Chicken with Rice & Zucchini Saute
Turkey Chili with Brown Rice
Pick your favorites, all made with fresh ingredients, and let us take care of the rest!