Earn Magic Moola with our Customer Loyalty Program
Earn Rewards for Purchases, Reviews, Referrals and more!
Get 500 Points for Joining Today.
Welcome to Magic Moola at MagicKitchen.com, a loyalty program where you can earn rewards for doing the things you already love! For a limited time, Magic Moola is free to join!
Earn Rewards by Redeeming Your Points
Earn More Points with Tiers
Magic Moola Program has three levels
When you get 1000 points, you'll be automatically upgraded from Silver to Gold level. At Gold level, you'll earn 2.5 points for each dollar spent. When you have earned 5,000 Lifetime Qualified Points, you'll be moved to Platinum Tier! At platinum, you'll earn 3 points for each dollar spent.
FAQ:
Q: If you join the points program and earn $ when you place an order will you be able to use the earned money in addition to any other discounts? At the present you do not allow more than one discount.
A: The points earned in our loyalty program are just like regular gift certificates. You can use a regular gift certificate and a promotion code with your order, so you are allowed to use a discount along with your loyalty points!
How do I Redeem My Points for Meals?
Go to your dashboard - Click here > - (this will open in a new tab)
It will take a moment to load, then Click on My Rewards. Click on the amount you'd like to redeem.
A confirmation window will open.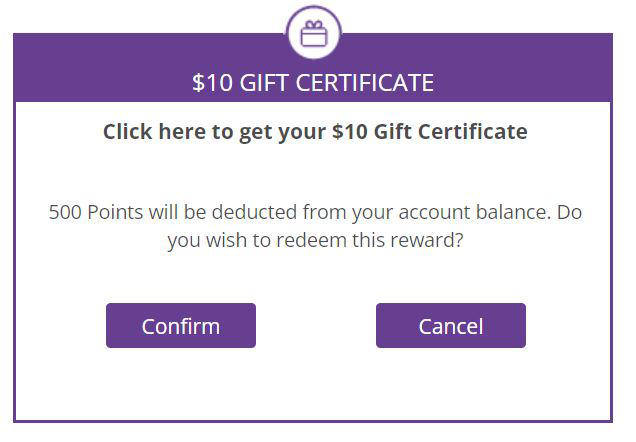 Click Confirm, and the pop-up will provide you with your gift certificate number. Save the gift certificate number and use it at checkout on your next order. (it will not be automatically applied, you must save it). You will also receive an email with the new gift certificate, with the subject line: Here is your reward from MagicKitchen.com. You can also use a promo code on the same order, if you have one.
Lost or misplaced the gift certificate? Go to the History tab on your dashboard, and you'll see it there!