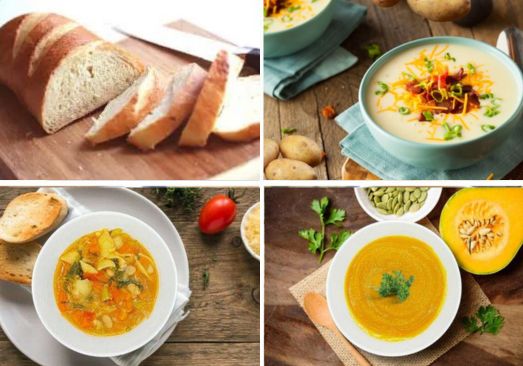 Sorry For Your Loss Sympathy Gift
Soups and breads are easy to prepare and keep warm, and are perfect for guests and those grieving. Comforting and delicious, soups are appreciated in times of hardship. *Note: Some items in this bundle require cooking in the oven. Those are marked with an (RC).
Bundle Description
Description
Soup and Bread, the perfect meal!
Vegetable Beef Barley Soup
Broccoli, Mushroom & Zucchini Soup
Chicken and Rice Vegetable Soup
California Beef Stew
Many Bean Soup
Tomato Basil Bisque
Vegetable Stew
Soup for the Soul Bundle with Breads
Soup for the Soul Bundle Soups, PLUS an assortment of breads
Whole Grain Rolls
Carrot Zucchini Muffins
Corn Bread Blueberry Toaster Cakes
French Bread
Fresh Herb Focaccia
Pesto Cheese Flatbread (RC)
Verdura Gourmet Artisan Flatbread with Kalamata Olives (RC)
Customer Reviews
07/11/2018
I really enjoy the Soup for the Soul Soup Bundle - very much. What I CAN do without is the cornbread cookies, or whatever they are. Nasty. I hope on my next order I can order an alternate item. Jo Anne J
06/13/2018
the soups make for a great, healthy,tasty meal plus i'm from the microwave generation, so defrost in fridge overnight and nuke for a few minutes. done. as the saying goes,"I make 3 meals, frozen, microwave, take out." Sherry A
12/20/2017
I have sent Magic Kitchen as gifts for people when they are sick or as a gift for an elderly relative or as a sympathy present. Everyone has always loved it. Suzanne H