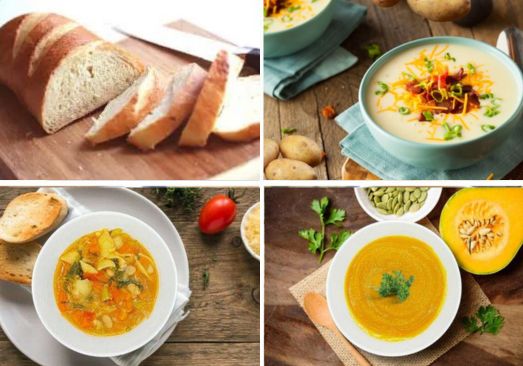 Sorry For Your Loss Sympathy Gift
Soups and breads are easy to prepare and keep warm, and are perfect for guests and those grieving. Comforting and delicious, soups are appreciated in times of hardship. Express your sympathy by sending this premade soup delivery bundle to a grieving friend or family member. *Note: Some items in this meal delivery bundle require cooking in the oven. Those are marked with an (RC).
Bundle Description
Description
Soup and Bread, the perfect meal!
Vegetable Beef Barley Soup
Coconut Carrot Ginger Soup
Minestrone Soup
Broccoli Cheddar Soup
Tomato Basil Bisque
Vegetable Stew
Broccoli, Mushroom, & Zucchini Soup
Soup for the Soul Bundle with Breads
Soup for the Soul Bundle Soups, PLUS an assortment of breads
Dinner Rolls
Carrot-Zucchini-Walnut Muffins
Corn Bread Blueberry Toaster Cakes
French Bread
Pesto Flatbread (RC)
Verdura Gourmet Artisan Flatbread with Kalamata Olives (RC)
Customer Reviews
10/07/2021
My mom said she is really enjoying the soup bundle. Her least favorite was the Beef Barley, it did not have enough beef according to her! She has enjoyed the breads too. Not to dry and quite tasty. I am really glad to have found this company as a resource for my aging mother. I can feel good about her having wholesome and yummy meals in her freezer when she cant get out to get food or doesn't feel like making something. This was a good find! Deborah R
06/07/2021
the soups make for a great, healthy, tasty meal plus I'm from the microwave generation, so defrost in fridge overnight and nuke for a few minutes. done. as the saying goes, "I make 3 meals, frozen, microwave, take out." Sherry A
07/11/2018
I really enjoy the Soup for the Soul Soup Bundle - very much. What I CAN do without is the cornbread cookies, or whatever they are. Nasty. I hope on my next order I can order an alternate item. Jo Anne J