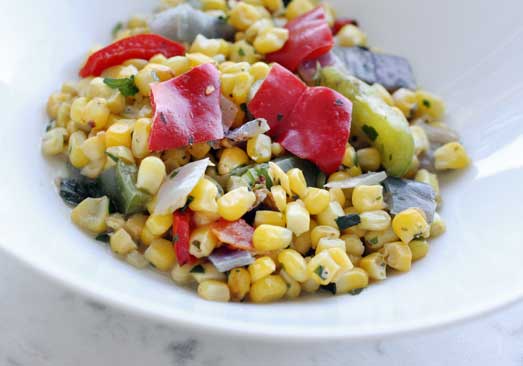 Fresh Cut Corn Medley
Leave the cans of soggy veggies in the cabinet for a rainy day and give yourself the fresh taste of our Fresh Cut Corn Medley side dish, the perfect complement to your main course. We take this corn right off the cob and lightly saute it quickly with fresh, crunchy red bell peppers. Order this healthy vegetable side dish today!
Serving Size: 6 oz
Ingredients
Corn, Onion, Red Bell Pepper, Green Bell Pepper, Butter, Parsley, Salt, Black Pepper
CONTAINS: Milk
Nutrition
Nutrition Facts

2 servings per container
Serving size
6 oz

Calories

Per serving


160

Per Container

% DV*

% DV*

Total Fat

6g

8%

Saturated Fat

4g

18%

TransFat
0g
Cholesterol

15mg

5%

Sodium

280mg

12%

Total Carb

26g

9%

Dietary Fiber

4g

15%

Total Sugars

11g

incl. Additional Sugars

0g

0%

Protein

4g

Vitamin D

0mcg

0%

Calcium

20mg

0%

Iron

1mg

4%

Potassium

340mg

8%

Phosphorus
Heating Instructions
General Instructions
Prepare from THAWED state(unless otherwise specified) for best results. Product may be refrigerated up to 3 days prior to use. Individual appliance cooking times will vary so adjust accordingly.

Microwave
Remove plastic packaging from paper tray.
Place paper tray with corn on a plate in the microwave for heating.
Heat for 2-3 minutes, stirring periodically to ensure even heating.
Place corn into a bowl to serve.
Oven
Defrost corn.
Remove plastic packaging from paper tray.
Cover paper tray with tinfoil. Place paper tray with corn in a 350 degree oven for heating.
Heat for 15-20 minutes or until warm.
Place corn onto a plate to serve.
Customer Reviews
06/08/2023
The corn is always so fresh tasting Barbara L
12/10/2022
I love the taste, but it seems much higher than store bought product in some ingredients that I have to limit. Robert H
08/21/2021
Good side dish. Cherry H