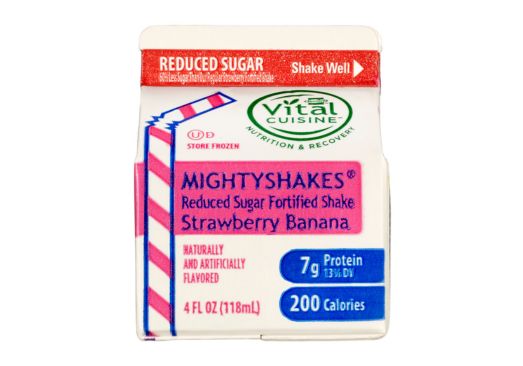 Mighty Shakes Strawberry-Banana - 4 oz (Reduced sugar), 6 Shakes
MightyShakes are a great option for adding dietary calories and protein. Try our Special Diet reduced-sugar strawberry-banana shake today! This product is Kosher.
Serving Size: 4 oz
Ingredients
Skim Milk, Water, Maltodextrin, Corn Oil, Isolated Soy Protein (Contains Calcium Phosphate, Soy Lecithin), Milk Protein Concentrate, Contains 2% or less of Gum Blend (Maltodextrin, Carrageenan, Xanthan Gum, Locust Bean Gum, and Guar Gum), Hydroxylated Soy Lecithin, Natural and Artificial Flavoring, Propylene Glycol, Phosphate Blend (Tripotassium Phosphate, Dipotassium Phosphate, Sodium Hexametaphosphate), Ethyl Alcohol, Glycerin, Sucralose, Red 40, Vitamin A&D Blend (Water, Polysorbate 80, Propylene Glycol [Preservative], Vitamin A Palmitate, Vitamin D3), Benzyl Alcohol, Citric Acid, Sodium Citrate, Blue 1, and Benzyl Benzoate, Sodium Benzoate, and Potassium Sorbate (To Maintain Freshness).
Contains: Milk, Soy.
Nutrition
Nutrition Facts

1 servings per container
Serving size
4 oz

Calories

Per serving


200

Per Container

% DV*

% DV*

Total Fat

10g

13%

Saturated Fat

24g

8%

TransFat
0g
Cholesterol

10mg

3%

Sodium

140mg

6%

Total Carb

20g

7%

Dietary Fiber

0g

0%

Total Sugars

3g

incl. Additional Sugars

2g

4%

Protein

7g

Vitamin D

3mcg

15%

Calcium

200mg

15%

Iron

1mg

4%

Potassium

90mg

2%

Phosphorus