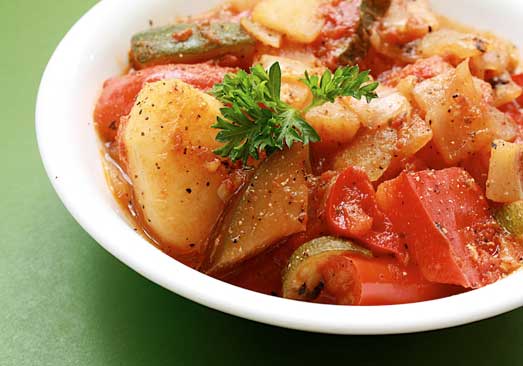 Vegetable Stew
This vegetable stew will surprise you with its depth of flavor. We fire-roast garden-fresh tomatoes, then add more fresh vegetables and spices for a healthy, nutritious, delicious meal. Our chefs have created this fine medley from garden fresh ingredients and outdone themselves in creating a low-calorie yet still hearty dish. Frozen Vegetable Stew Delivered - what a great idea!
Serving Size: 12 oz
Ingredients
Fired Roasted Tomatoes, Potatoes, Zucchini, Eggplant, Red Bell Pepper, Vegetable Broth, Yellow Onions, Canola Oil, Garlic, Olive Oil, Bay Leaves, Basil, Salt, Black Pepper
Nutrition
Nutrition Facts

1 servings per container
Serving size
12 oz

Calories

Per serving


120

Per Container

% DV*

% DV*

Total Fat

3g

4%

Saturated Fat

0g

0%

TransFat
0g
Cholesterol

0mg

0%

Sodium

560mg

24%

Total Carb

21g

8%

Dietary Fiber

6g

20%

Total Sugars

9g

incl. Additional Sugars

0g

0%

Protein

4g

Vitamin D

0mcg

0%

Calcium

30mg

2%

Iron

1mg

8%

Potassium

750mg

15%

Phosphorus
Heating Instructions
General Instructions
Prepare from THAWED state(unless otherwise specified) for best results. Product may be refrigerated up to 3 days prior to use. Individual appliance cooking times will vary so adjust accordingly.
Oven
Preheat oven to 350 F.
Remove overbag from pair of items and plastic packaging from paper tray.
Cover paper tray with foil.
Heat for 15 minutes or until warm.
Remove foil and heat 5 minutes longer or until lightly browned.
Carefully place stew into a bowl and serve.
Microwave
Remove overbag from pair of items and plastic packaging from paper tray.
Place paper tray on a plate in the microwave.
Heat for 2.5-3.5 minutes, stirring periodically.
Place stew into a bowl and serve.
Customer Reviews
09/28/2023
Delicious! MaryJane G. S
08/28/2023
Its good, according to my mother in law. I only gave it 4 stars because she says its good but doesnt rave about it like she does the soups. Low sodium is a must for her so the low sodium selections are appreciated! Rick R
07/29/2023
My mom loved it Mary K