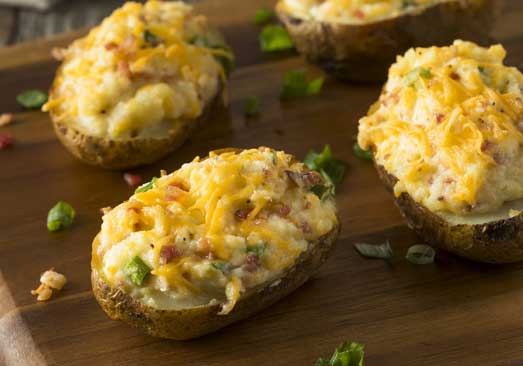 Stuffed Baked Potatoes (2)
Enjoy the comforting delight of our Stuffed Baked Potatoes, a heavenly combination of wholesome ingredients that will satisfy your cravings. We start with perfectly baked Russet Potatoes, their fluffy interiors mingling with creamy Whole Milk, tangy Sour Cream, and melted Cheddar Cheese. Each bite is elevated with crispy Bacon, diced Green Onions, and a luscious dollop of Butter infused with aromatic Garlic. Seasoned with a pinch of Salt and a sprinkle of Black Pepper, these loaded potatoes are a symphony of flavors and textures. Treat yourself to the ultimate comfort food experience with our irresistible Stuffed Baked Potatoes today!
Serving Size: 7 oz
Ingredients
Russet Potatoes, Whole Milk, Sour Cream, Cheddar Cheese, Bacon, Green Onions, Butter, Garlic, Salt, Black Pepper. CONTAINS: MILK
Nutrition
Nutrition Facts

2 servings per container
Serving size
7 oz

Calories

Per serving


250

Per Container

% DV*

% DV*

Total Fat

13g

16%

Saturated Fat

7g

34%

TransFat
0g
Cholesterol

35mg

Sodium

520mg

22%

Total Carb

27g

10%

Dietary Fiber

2g

7%

Total Sugars

3g

incl. Additional Sugars

0g

0%

Protein

9g

Vitamin D

1mcg

2%

Calcium

160mg

10%

Iron

1mg

8%

Potassium

660mg

15%

Phosphorus

190mg

15%
Heating Instructions
General Instructions
Prepare from THAWED state for best results. Product may be kept refrigerated up to 3 days prior to use. Individual appliance cooking times will vary. Adjust cooking time accordingly.
Microwave
Peel back lid or slit film vent.
Place tray on plate in the microwave.
Heat for 2-3 mins until internal temperature reaches 165°F.
Carefully place potatoes onto a plate and serve.
Conventional Oven
Preheat oven to 350 F.
Peel back lid or slit film vent.
Place tray on a cookie sheet.
Heat for 20 mins or until internal temperature reaches 165°F.
Carefully remove tray and place onto a plate and serve.
Customer Reviews
11/15/2023
Very good but too bad I can't get them without bacon. Margaret N
10/25/2023
This is very good -in fact they are delicious,The directions are right on the mark they are better when thawed. Colleen R
10/10/2023
Nice change. Illiterate was filling so I can make it my lunch Barbara L