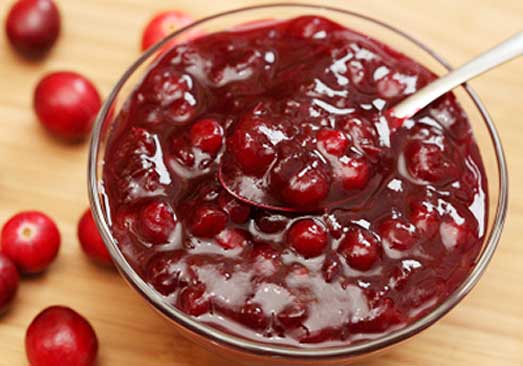 Cranberry Orange Sauce -Family sized
Frozen Cranberry Orange Sauce - the dish that makes dinner great. Don't pour it out of a can - get this container of sauce and make your dinner easy and delicious! Try this premade cranberry sauce today!
Serving Size: 2 oz
Ingredients
Cranberries, Sugar, Orange Juice, Water, Orange Peel, Salt, Ground Cinnamon
Made in a facility that also processes nuts.
Nutrition
Nutrition Facts

4 servings per container
Serving size
2 oz

Calories

Per serving


250

Per Container

% DV*

% DV*

Total Fat

0g

0%

Saturated Fat

0g

0%

TransFat
0g
Cholesterol

0mg

Sodium

90mg

4%

Total Carb

66g

24%

Dietary Fiber

8g

28%

Total Sugars

52g

incl. Additional Sugars

44g

89%

Protein

1g

Vitamin D

0mcg

0%

Calcium

20mg

0%

Iron

1mg

2%

Potassium

160mg

4%

Phosphorus
Customer Reviews
11/26/2023
The portion was good and it was tasty. I do prefer plain cranberry sauce. Mary P V
01/17/2023
So Yummy! Great with turkey or biscuits BECCA B
08/28/2022
Very good! I love the taste of this cranberry sauce. Deborah B