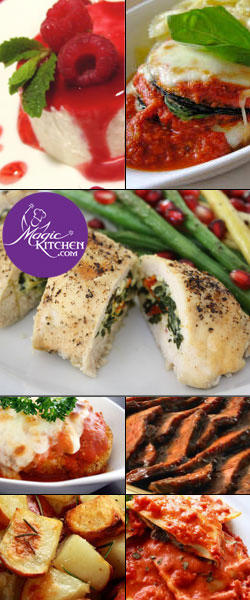 Meal Plans Delivered, Meal Plan Delivery
Is your student stuck with meal plans they dislike? Are your aging parents in need of nutritional, delicious, easy-to-prepare meals? Then you are in the right place! MagicKitchen.com has two separate menus.
One has delicious, gourmet entrees, side dishes, soups and desserts which you mix-and-match for the meals of your choice.
The second option is our "Complete Meals Menu" of full meals that are low-carb, low-fat, low-cholesterol, low-sodium, portion controlled and diabetic-friendly!
MagicKitchen.com is your source for delicious Meal Plans including Diet Meal Plans. If you are searching on Meal Plans for Seniors or Senior Meal Plans, you're at the right destination. Our meal plans have been seen on ABC's The View and written up in Parents Magazine, Neighbor.com, FOOD 411 and many more. Our Meal Plan Delivery service encompasses the entire US, Alaska, and Hawaii. Our Seniors Meal Plan service is used for aging parents and people with special dietary needs. Our regular menu meal plan is used by many parents to ensure that their student sons and daughters are eating healthy, delicious meals.
Purchasing a Meal Plan Online on our secure website is convenient. This Meal To Go program offers a full menu where you may select your Meals To Go entrée by entrée. Another popular option is a very healthy meal plan for aging parents or people with dietary restrictions. Other Meal Plan uses are thank you, congratulations or thinking of you gifts. A Meal Plan is also a thoughtful gift for a new Mother or grandparents.
A Meal Plan that will make you excited to wake up
Are you looking to make a change in your life? Do you want to eat healthier meals but you are not sure where to start? If your answer to either of these two questions is yes, we invite you to keep on reading. In the paragraphs that follow, you will discover a meal plan that is guaranteed to lead you onto the right path. Find out how to include healthier choices in your daily meals, what to avoid and how to pep up your energy levels.

#1 Three meals + two snacks
Even though it might seem obvious, you need to organize your day, so that it includes three meals, meaning breakfast, lunch and dinner. It is very important that you eat these meals at approximately the same hour every day, in order to get your internal clock fixed. In-between the meals, you should have a snack, preferably a piece of fruit and not something sweet or junk food, as these will interfere with your health.
Read more here: https://www.consumerhealthdigest.com/general-health/20-ideas-for-easy-healthy-meals.html

#2 Protein for breakfast
The majority of us are tempted to go with food items that have a high content of carbs. These are slowly absorbed and consumed by the body, causing us to become sleepy and less productive. At the same time, carbs are metabolized into glucose inside the body, causing sugar spikes and crashes. By switching to food items that contain a high quantity of protein, you will feel less tired in the morning and experience a renewed level of productivity throughout the entire day.

#3 Say no to certain combinations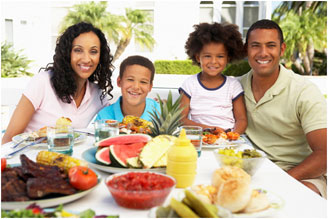 Unfortunately, there are a lot of food combinations that are quite wrong for our bodies. For example, it is not good to combine meat with potatoes, especially when you add a slice of bread. You are providing your body with too many carbs, which are going to interfere with the absorption of protein at the same time. Instead, the potatoes should be consumed on their own and certainly not fried. The meat can be better paired with a salad, as this is going to facilitate the digestion process as well.

#4 Water
It is a known fact that each person needs to drink a different amount of water (in accordance to his/her own body weight). Everyone needs to drink enough water, and usually your own thirst will give you the best clue. Stay away from sugary drinks, but coffee and tea count as liquids your body can use. You can begin your morning by drinking a tall of glass of water, as this will activate the internal organs and hydrate the body (after an entire night of deprivation).

#5 Less dairy is a good idea
As adults, our digestive system is no longer capable of processing dairy products as efficiently. Because of that, the large consumption of dairy can lead to frequent complaints, such as bloating, belching or flatulence. In organizing your daily meal plan, you have to reduce the amount of dairy products that you consume. According to Glozine health news, the moderate consumption of dairy can help you improve your overall health (no one says to give them up altogether).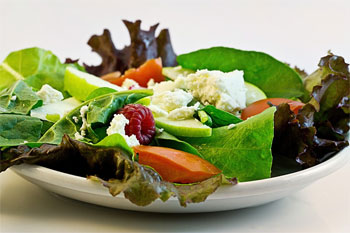 #6 Salads for lunch
Salads represent an excellent choice for lunch, as they can satisfy your hunger, without making you feel sluggish. In general, it is recommended to go for the fruits and vegetables that are in season, avoiding those that have been grown with harmful pesticides or other chemical substances. Prepare a different salad each day, allowing yourself the time to savor the multitude of flavors. Be careful with the salad dressing, though, as it can be loaded with fat.

#7 Carbs for dinner
As was already mentioned, carbs can make you feel sleepy and less productive in the morning. While this is not a good thing for a day that is about to start, not the same can be said about one that is nearing the end. Consuming carbs for dinner is a good idea, as such a meal (pasta, for example) can promote a night of restful sleeping. However, you have to pay close attention to the quantity, in order to avoid eating more calories than you actually need.

Based on the recommendations that were included in this article, you can easily establish a meal plan. Make sure that you do not skip breakfast, no matter how busy or complicated your day may seem. At the same time, drink plenty of water throughout the day, in order to keep yourself hydrated.
MagicKitchen.com is an excellent place to help you with your meal plan. Portion controlled, healthy meals can sit in your freezer and be taken out, heated and enjoyed at any time, ensuing you continue to eat healthy.

Author Bio
Katleen Brown is a health, beauty and fitness writer. She loves to publish her articles on various health related websites. In her spare time, likes to do research to bring awareness. Recognizing the unity of body, mind, and outlook, she helps empower women to tune into their innate & inner wisdom to transform their health and truly flourish. Get in touch with her on Google+, Pinterest and Twitter.