Healthy Meals by MagicKitchen.com
Healthy eating is a challenge for most of us. Meal planning, cooking and clean-up - after a long day of work - is a time-consuming chore. But healthy eating doesn't have to be so difficult. There's an easier way to eat right at home: MagicKitchen.com's premade healthy food home delivery service.
Our healthy premade meals are delicious, nutritious and delivered right to your door. Start a healthy premade meal plan today. Browse MagicKitchen.com's healthy meal options, place and order. And voila! Get our healthy meals delivered in 2-3 business days.
Healthy prepared food delivery takes the guesswork out of dieting. Our premade meals - which include your favorite Italian, Continental, and Asian dishes - can be reheated in about 10 minutes. And they're nutritionist-approved to fit a variety of healthy eating plans, including Diabetic Diets, Low Carb Diets, Gluten Free diets and more.
Choose MagicKitchen.com's healthy food delivery service for:
Fresh, Healthy Meals – Our flash-frozen, premade healthy meals are cooked with the finest ingredients and prepared in small batches by our in-house team of chefs.

Convenience - Place an order online or enroll in a healthy meal plan. And receive dinners each by the week or month. When it mealtime, reheat your entrees in 10 minutes in the oven or microwave!

Special Diet Friendly – Whether you want to lose weight, or follow a special diet, our healthy meal delivery options fit strict diets, with complete meals containing 350-550 calories.
Start your journey with healthy eating today. Get MagicKitchen.com's healthy prepared meals delivered right to your door. Browse our menus to see what delicious dishes await and try us risk-free!
Benefits of Healthy Meals
Fresh, nutrient-dense whole foods are the hallmark of a healthy eating program. And that's what you can expect from our meal plans. Our healthy meals are cooked with quality ingredients, fresh produce and are packed with vital nutrients.
Delivering quality premade meals is our mission. That means: All MagicKitchen.com meals are prepared in small batches and flash frozen after cooking to lock in freshness. And all of our meals are preservative free.
Your meals are dietitian approved and fit numerous special diets, including Vegetarian, Gluten Free and Diabetic Diets. Choose our complete meals - an entrée and 1-2 sides - for balanced nutrition. MagicKitchen.com's complete meals contain about 350-550 calories per plate - right-sized portions for dieters.
Our Menu of Healthy Meals
Eating delicious, home-cooked meals doesn't have to be a chore. With MagicKitchen.com's healthy meal plans and menu options, great-tasting, nutritious food is just a click away. Browse our two menus now, place and order and get healthy meals delivered right to your door.
You'll find two menus: ALA CARTE and COMPLETE MEALS. MagicKitchen.com's ALA CARTE dishes are entrees, soups, desserts and sides that fit a variety of healthy eating plans. Choose a mix of ala carte dishes and stock your freezer with healthy, filling home-cooked dishes. Our COMPLETE MEALS are balanced plates designed to taste great, while offering complete nutrition. Find complete meals that suit your tastes - French, Italian, Asian, Continental and Mexican meals are available for home delivery.
Choosing MagicKitchen.com for healthy food delivery service is perfect for:
On-the-Go Dieters - Can't find the time to cook after a long day of work? With meal deliveries, you always have healthy options on hand.

Seniors – A convenient solution to ensure mom or dad has access to flavorful, easy-to-prep meals every day. Find options to fit senior diets.

Weight Loss – Stick to your weight-loss diet with MagicKitchen.com's healthy complete meals and ala carte entrees and sides.

Quick Preparation – Home delivered healthy meals ensure your family eats right - without the planning, cooking and clean-up.
Browse MagicKitchen.com's delivered healthy meals now. Place an order or enroll in a meal delivery program in minutes!
Prepared Meal Delivery Service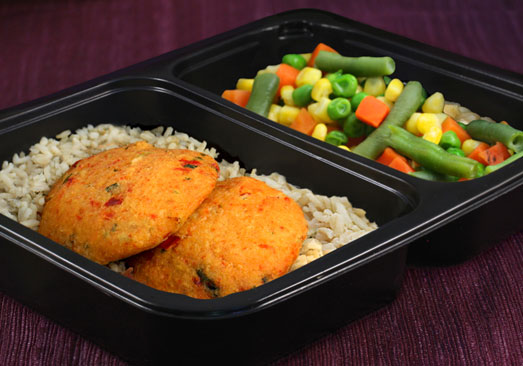 Meal planning, cooking and clean-up doesn't have to be a time-consuming chore! MagicKitchen.com's home-delivered premade meals make it easier than ever to eat great-tasting, nutritious hot meals - 7 days a week.

Order your prepped meals online. Receive your delivery in 1-3 business days. Then: Drop your meal in the microwave or oven for a quick, convenient meal any time!
But MagicKitchen.com's precooked meals aren't just super-convenient. They're also:
Delicious – Cuisine to fit everyone's taste; Italian, Asian, Mexican, French and much, much more
Fresh - Our premade meals are flash frozen to lock in flavor, preserve freshness during storage
Healthy - Just 350-550 calories (per complete meal), with options for special diets including Low Fat, Low Sodium and Gluten Free
Enjoy healthy, fresh and great-tasting premade food delivered right to your door - with MagicKitchen.com. Put your meal planning on auto pilot!
Try MagicKitchen.com today and place an order! No contracts or commitments.
Meal Delivery Made Easy
MagicKitchen.com's makes healthy eating easier than ever. Just order our meals online; store them in your freezer, and always have a go-to option for breakfast, lunch or dinner (for you or the whole family)!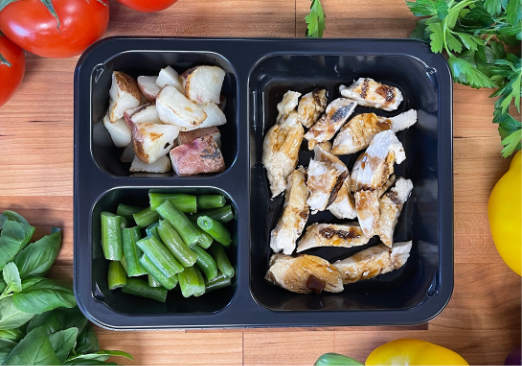 How do you order our prepared meals? It's easy - just follow these simple steps:
Browse Our Menus: Explore our two menus - Complete Meals and A la Carte. Complete Meals feature an entrée and 1-2 sides. Hundreds of delicious and nutritious options to choose!

Place an Order: Pick your favorites and schedule a one-time delivery or recurring delivery. Our standard and custom Meal Packages, are fit to your preferences and delivered every week, bi-weekly or monthly.

Receive Your Delivery: Your meals arrive in 1-3 business days, packed on dry ice. Just drop them in the freezer until you're ready to cook them up! We deliver anywhere in the U.S.

Meal Prep in Minutes: Just reheat them when you're ready to eat! Follow the instructions for eat meal. Usually just a few minutes in the microwave or oven in the container they arrive in!
Healthy Meals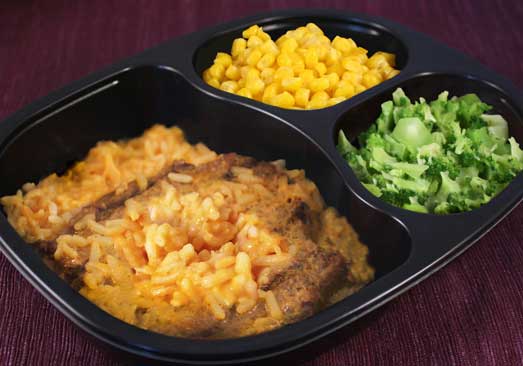 MagicKitchen.com's meals are chef-prepared. That's right.  We have a team of chefs that make every meal.
Our chefs carefully select ingredients, create recipes for favorite dishes, and precook our meals in small batches. We care about food quality. That's something you can count on. Our meals are:
Preservative Free: Frozen, precooked food doesn't have to be loaded with chemicals. Our meals are preservative free - just high-quality ingredients.
Freshness: Our meals are flash frozen right after cooking. The process locks in flavor and taste and keeps them fresher longer.
Variety: Choose your favorite dishes. We offer a complete selection and numerous menu options! French, Asian, Mexican, American, Italian - you'll find it all.
Special Diets: We offer nutritious-approved meals to fit many special diets: Senior meals, Gluten Free, Vegetarian, Low Sodium, Renal Friendly, Diabetic Friendly, and many more.
Portion Controlled: The majority of our complete meals - feature an entrée and 1-2 sides - and contain about 350-550 calories.
High Quality Ingredients: Our precooked meals feature only the finest ingredients, including garden-fresh produce, hormone-free beef, and quality cheeses.
We guarantee quality too! If your meal delivery issue with freshness - we're happy to replace the damaged food, free of charge. Learn more about our return and exchange policy.
Who Is It For?
Here's a scenario: You got up early, went for a run, fed the kids, sent them to school, made it to work on time, and worked a hard day. When you get home, you only want to spend time with your family and relax. Cooking is the last thing on your mind!
If you have MagicKitchen.com meals in the freezer, making supper is a breeze. That's why our healthy ready made meals are so great for busy families! Just grab a few entrees and sides out of the freezer - and voila! - you have a hot meal on the table.
But precooked meal deliveries are also great seniors and busy singles. If you're a caregiver for a parent, or friend or family member, a recurring delivery can help you know your loved one has access to healthy foods - every day. We offer Senior Meals - dietitian approved for older adults. Plus, our Special Diet meals fit many senior diets.
Singles on-the-go also love our premade meals - they're quick, convenient, great-tasting and healthy! Know a bachelor or college student? A gift of precooked meals will always come in handy!
What People Are Saying
"The food was fresh and delicious. I didn't even pay attention to what I grabbed out of my freezer for lunch or dinner because I knew it was going to be perfect."
~ Camile G.
"I can't say enough about the quality and service I have received from you."
~ D. Fiser
The Best Healthy Diet is Still Just Eating Right
If you had a dietitian, nutritionist, and personal chef following you around all the time, trying to decide what to eat would be a lot easier, especially if you're trying to watch your weight. But for most of us, that's probably not going to happen. So how do you eat healthy and keep up with the never-ending decisions about what to eat?
You could pour through volumes of cookbooks looking for healthy meals to make. You could spend hours clicking through hundreds of pages of websites looking for recipes. Or you could try to amass a collection of recipes by contacting all your friends. You might even consider following one of those fad diets, restrictive eating plans, or take dietary supplements. But any of these options are time consuming and may not always be healthy.
Fortunately, eating a balanced meal doesn't mean you have to be a nutrition expert or culinary guru. In fact, if you take a look at meal planning recommendations by the U.S. Department of Agriculture or the Harvard School of Public Health, you'll find that home-style cooking and meals that include fruits, vegetables, whole grains, lean meats, nuts and seeds, fish, and low-fat dairy products are still the healthiest way to eat. The best healthy diet is still just eating right.
Forget about fad diets, and focus on eating balanced meals. Fill half your plate with fruits and vegetables at every meal. And dish up whole grains and healthy proteins on the other half. When you balance your food choices with proteins, healthy fats, and complex carbohydrates like this, you'll get all the nutrients your body needs for good health.
And it doesn't have to be complicated. Just take a look at the meal bundles, main courses, and other MagicKitchen.com healthy meal options and you'll have your planning, shopping, and meal-prep time done in a flash. You'll even find healthy desserts and sweet treats to satisfy your sweet tooth without overloading on calories. Stick with balanced, home-style meals, and a treat now and then, and you'll be healthier and happier.
MagicKitchen.com is a way for busy families and seniors to have delicious, wholesome meals without shopping, cooking, or clean up. MagicKitchen.com's healthy, chef-prepared meals are prepared using top-quality fresh produce and ingredients to ensure you receive delicious, nutritious meals that are quick to prepare. The meals arrive on your doorstep frozen. All you have to do is defrost, heat and serve!

By delivering well-balanced prepared meals, MagicKitchen.com helps families everywhere enjoy hot gourmet meals without the hassle of, well, cooking. You'll also find a healthy selection of diabetic-and dialysis-friendly meals, as well as meals designed for seniors.
Meal Delivery Services and a Healthy Diet
Have you been considering trying out meal delivery services to get on board with a healthy diet? They can definitely be a great way to go from frumpy and fatigued to fit and fabulous quickly. What once was considered a luxury for the rich and celebrity crowd is now very accessible for the average Joe and Jane. No matter your income level, time constraints, family size, or dietary needs, just about everyone could benefit from meal delivery services to create a convenient, healthy diet.
Many of the companies that provide meal delivery services offer gourmet meals or meals for special holidays (like Thanksgiving), or every day meals for those on special diets or who want to lose weight. Selecting a company that offers low fat, low sodium, low carb or diabetic meals could be a great way to help you on the path to healthy living. Depending on your nutritional needs according to your physician, you should find a company that offers a plan that fits your lifestyle.
The first place you want to start investigating is the website. Do they provide the nutritional information for each item? Are the foods filled with chemicals and unnecessary preservatives? Do they use real chefs to prepare your meals? Are foods flash-frozen to ensure freshness? Is the customer service number easy to find? These are just a few of the questions you should be asking before you order.
If you are specifically trying to lose weight, counting calories, fat grams, carbohydrates, sodium, and sugars can be a headache. Not to mention checking countless food labels for fattening ingredients like partially hydrogenated oil or high fructose corn syrup. It is no wonder that obesity and overweight have become the biggest health issues of our times. There is just too much to keep up with! Even labels that say "natural" and "whole" can be very misleading. Fortunately, meal delivery services help to take a lot of the guesswork out of selecting meals that you can find satisfying, tasty, and will help you lose weight.
Maybe your doctor is suggesting you start a regimen of prescription medications? Many people have had a lot of success in lowering, coming off of, or avoiding prescription medications altogether with complete, nutritious meals. It is certainly something to consider when you factor in how much medications can take out a large chunk of your budget. You know the old saying "Let food be they medicine." It is definitely something you would want to discuss with your physician before heading down the path of medical intervention.
Another benefit of meal delivery services is taking out the planning and preparing stages of your meals. For some, it is difficult to determine exactly what you should be eating at every meal. With so many variables (did you get enough fiber? iron? Vitamin C? B12?) it can be a big challenge to be nutritionally complete. Imagine how much time is saved from walking up and down grocery aisles pushing and filling a cart when you decide to let someone else do the hard work for you.
Click for review