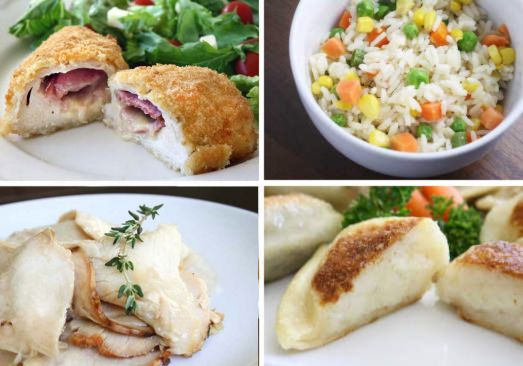 Senior Prepared Meals Bundles
The Senior's Bundle has been handpicked to fit the senior appetite, with smaller meals. On the left is our regular sized bundle, on the right is the Grande size. You have the option to buy 2 servings or 4 servings of these bundles.

Order Senior Meals online- senior meal delivery of meals which are easy to heat up and are simply delicious. Order Senior meal plans, or individual senior meals. *Note: Some items in this bundle require cooking in the oven. Those are marked with an (RC).
Regular
Meals
Sliced Beef Brisket, Magic Mashed Potatoes, Whole-Grain Rolls
Chicken Cordon Bleu (RC), Broccoli, Peas & Corn
Salmon Caponata, Rice with Mixed Vegetables
Pork Burnt Ends, Rosemary Potatoes
Desserts
Hamentashen
U-Bake Apple Raisin Strudel (RC)
Grande
Meals
Meals and desserts in Regular Bundle, PLUS 3 more meals
Beef Stroganoff with Noodles, Brussels Sprouts with Bacon
Corned Beef, Haluski Kapusta (Noodles & Cabbage)
Many Bean Soup, Cornbread Blueberry Toaster Cakes
Desserts
Pucker Up Lemon Loaf